New style of Punjabi Suits Inspired by Celebrities
By Sonia Khanna | July 18, 2018
'Ve Tu Laung, Ve Main Laachi, Tere Picche Aa Gavachi', the Punjabi song not only popular for its peppy lyrics but also for its authentic costumes like typical 'Punjabi Suits'. Furthermore, the trending new style of Punjabi suits is reigning high in the fashion industry. Here's a list of gorgeous Punjabi divas donning Punjabi suits with grace & panache. Readout till the end. Also, does your favorite type of suit make it to our list? Find out!!
Printed Shirt with Ankle-length Pallazo

Mannat Noor, a beautiful singer loves to dazzle brightly in trending Punjabi suits, like palazzo pants with long kurti. Here's the look – tight pallazo ankle-length pants, long printed kurti with a hint of embroidery, bold gotta-patti dupatta, and exquisite jewelry. Lastly, a perfect pick for an evening outing or a date with your loved one.
Full-length Kurti with a short Jacket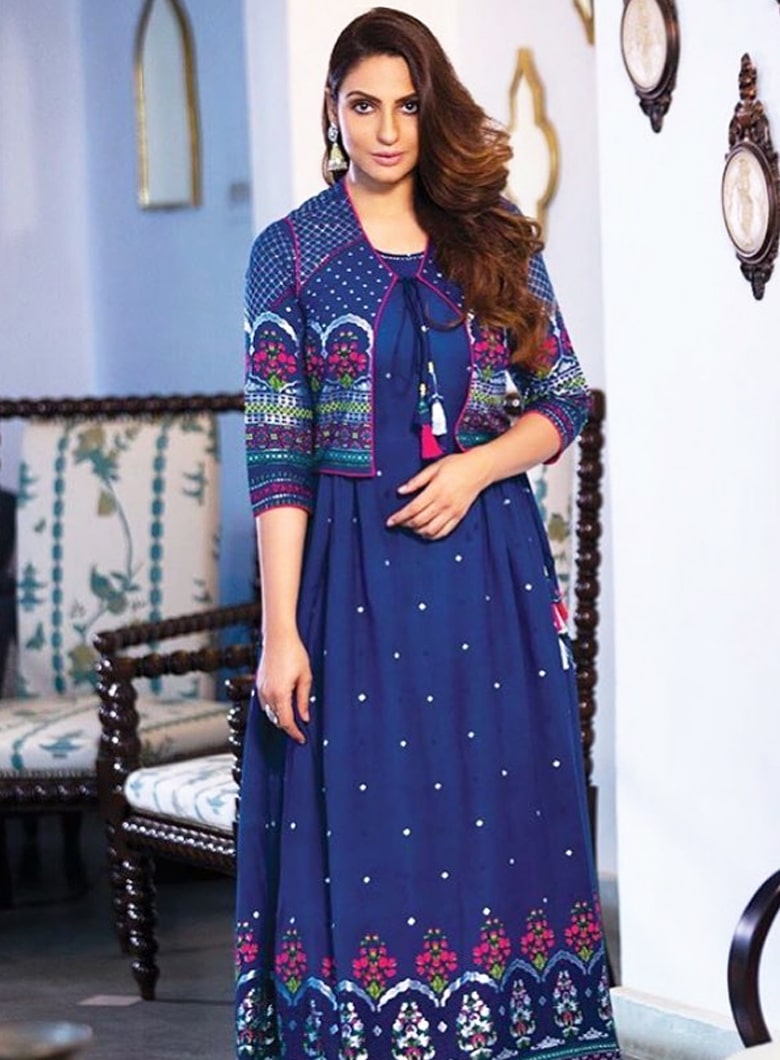 Japji Khaira, a gorgeous actress slaying in a cotton full-length cotton kurti. Furthermore, the little embroidery done towards the lower side is just too amazing. Also, the short jacket is adding all the oomph to the look. This easy-to-wear dress offers all the comfort with style. You can wear it to house-warming parties or  family gatherings and much more.
Jaipuri-print Shirt with Velvet Pakistani Salwar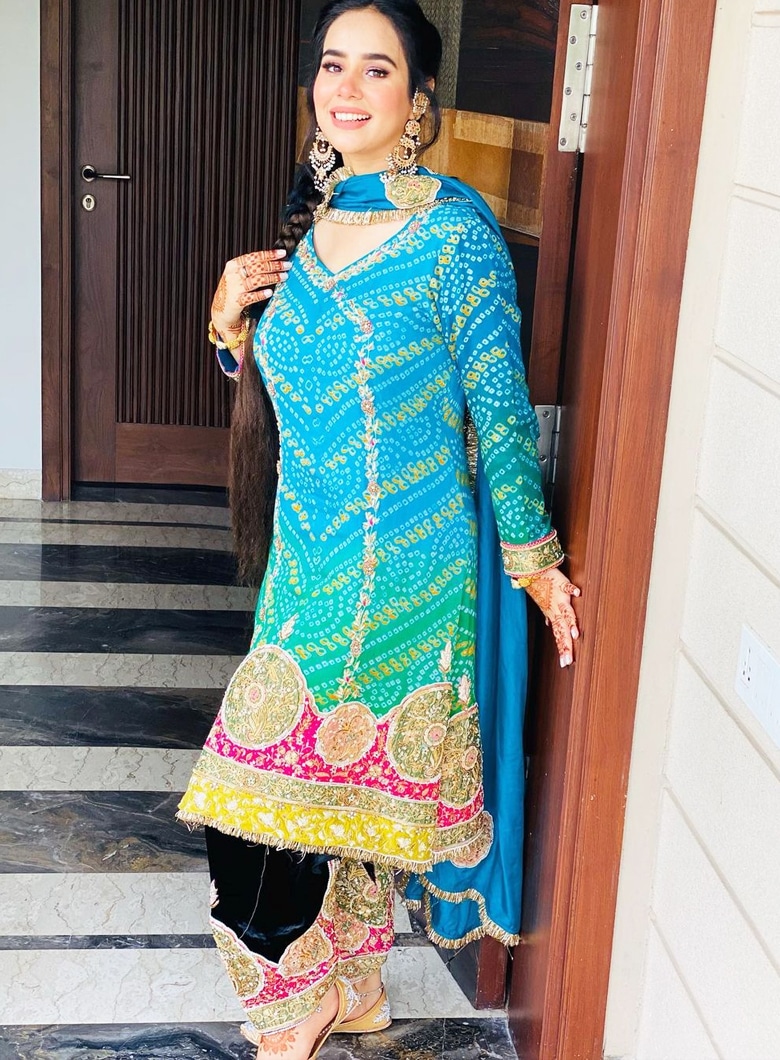 Sunanda Sharma, a singer-actress is also known for her sharp fashion sense. The look displays a bright multi-colored Jaipuri print georgette shirt paired with amazing velvet and embroidered Pakistani salwar. A shirt-matching colored dupatta is added to finish the look.  Isn't it grace & elegance at par?
Sequinned Sharara Suit

Sawan Rupowali, a gorgeous actress donning an appealing sharara suit. A gold-sequinned sharara is paired with a plain shirt and contrasting gota-work dupatta. Furthermore, to add more fun to the look, the actress accessories-ed it with bangles and bold earnings. Lastly, it can be ideal for pre-wedding occasions and so.
Full-length Minimalistic Embroidered Anarkali Suit

Jenny Johal, a passionate singer looks enchanting in this typical full-length Anarkali suit. Moreover, the dark-grey color suit with multiple embroideries on the lower part makes the outfit a head-turner. Also, do you notice the deep maroon colored extra dupatta paired up! In short, this royal outfit is perfect for a wedding or pre-wedding function.
Georgette Pastel Sharara Suit

Nimrat Khaira, an actress-singer looks pristine beautiful in this georgette pastel-green colored sharara suit. Moreover, to add extra punch she added bright orange and embroidered dupatta. The overall look is fascinating and ideal for any Summer occasion or event.
Mukaish work Sharara Suit

Roopi Gill, a model-actress looks scintillating in this unique sharara suit embroidered in mukaish. It is a light-weight form of embellishment work done with metallic wire threads. Furthermore, different patterns are created all over the fabric. This look is ideal for family gatherings, festivities, and much more.
Short-length Shirt with Typical Patiala Salwar

Saanvi Dhiman, an actress looks endearing in this typical patiala salwar suit. The short-length(ed) embroidered shirt with plain salwar. Also, the dupatta matching with the shirt's embroidery is a unique twist in the style. Furthermore, the simple look can be every day or any day pick as per your comfort & of course weather.
Machine-work georgette suit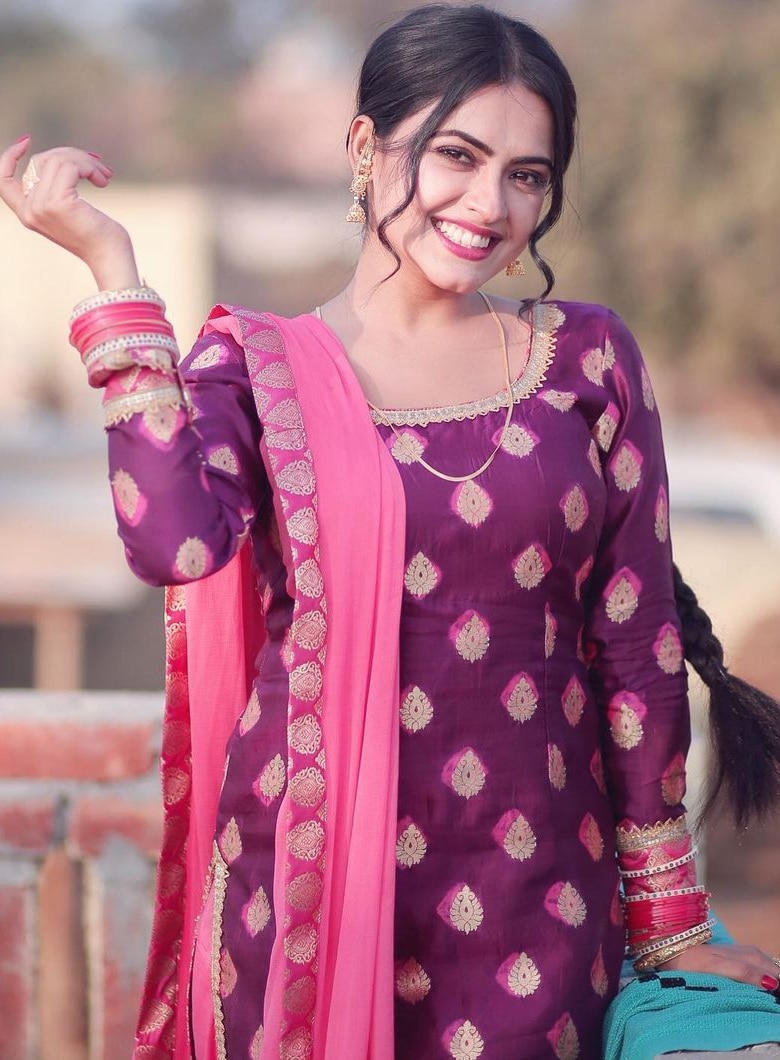 Simi Chahal, an actress with looks to die for wears simple Punjabi designer suits. You can make this look a part of your wardrobe too. All you need is an intricated-embroidered georgette shirt with a contrasting salwar & dupatta in a similar designed style. Also, you can wear it to any wedding or small function or even festive celebrations. Complete this look with a typical braid and there you good to go!
Plain Suit with Multi-colored Dupatta
Neeru Bajwa is one prominent star who rocked the authentic Punjabi suits in her movies and albums. She inspires zillions of women across the globe. Moreover, you can be a Neeru with this simple fashion trick. Mostly, she's wearing a plain cotton fabric suit with a bright or multi-colored contrast dupatta. Wear it regularly to keep the style factor high. Also, a well-knot braid and subtle makeup, and there you're ready as Ms. Bajwa. Hi, beautiful!
Pastel Palazzo Suit with Bright Dupatta
Nimrat Khaira, the Punjabi singer-turned-actress raises the glamour quotient with every public appearance. Besides flawless beauty, she has been gifted with a charming smile. You too can be like her, follow her simple fashion rules. Here's, she is wearing a soft colored georgette suit with a heavily-embellished green dupatta. No, the look does not end here, the trendy palazzo adds the zing to the overall look. You can wear it on family get-to-gathers or so. Get this new style of Punjabi suits as soon as possible.
Angle-length semi silk pants suit
Sara Gurpal, is a model, actress, and singer. Her cute smile & pleasing beauty can take anyone down on their knees.  Here she is wearing a yellow 'Punjabi designer suit' with ankle length straight pants and a dupatta with studs on it. This look is not only graceful but also pocket-friendly and regularly donned. You can pick your favorite color and do this look.
Scrolling through these looks, it shows Punjabi suits has also undergone several changes & experiments. But, overall the theme & feel for Punjabi outfits remain the same. Also, you can add the oomph of Punjabi Jutti, traditional earrings, and parandi to your hair in view to complete your look top to toe. So, try a new style of Punjabi suits, today!
Leave a Comment