The most elementary and plain words like 'youth", "talent", "online', and "success" mean nothing phenomenal when analysed as separate entities. But when brought on a common platform they braid into robust app #fame.
#fame opens another facet to mobile video app. It brings a whopping multi-million revenue generation by propagating a unique business idea of letting the greenhorns, the novices, the amateurs, and the skilled ones to come on a common platform and project their talent in various fields to the audience or the end user; directly without any mediation.
After more than 1 million downloads in just a quarter of the year, digitally moderated live panel discussion was organised on "The Power of Live Video- Beam your Brand", in Delhi recently. It brings forth a very pertinent outcome of using live video to market your brand at a higher stature than before. Panelists film critic Raja Sen, cricket columnist Ayaz Memon aka Cricketwallah, and Pavleen Gujral#fames featured talents from Delhi, were part of a four-hour mutually enlightening and thought provoking interaction to take up various case studies. Live coverage of IIFA, Bollywood flame Shahid Kapoor's wedding saga, film trailer launches, etc. coupled with live chats with celebrities hogged everyone's attention.
The panellists also shared their views after having used the app for quite some time.
Pavleen Gujral shared her review of the app and said that the app can be used for personal interaction as well, where people can share their personal email ids for further information generation and queries regarding the services offered. Unique live panel discussion enabled representatives to download the app and experience on the spot live streaming. Simultaneous #famestar Abhiruchi was getting her video live and connecting to the crowd to sing their requested songs. Sharing her first stand experience of using the app she said that she could connect in a much better way to the audience all over the world through this app than just singing in her hostel room for a chosen friend on the same floor. She also got some collaboration offers from other artists.
Catering to diverse skill sets like fashion, music, technology, comedy, entertainment and various others, #fame is an easily accessible service to almost everyone who uses a smartphone. Live auditions, nerve-wracking interview and one-to-one sessions are now obsolete. Reach out to the public by just uploading your talent in the video form and capture the glory if it appeals to the senses of the one at the receiving end.
The talent pool all over the world gets the boost by this online digital entertainment network. Multi-dimensional moderation methods- manual, machine learning and community level, though do not ensure complete control over showcase of inappropriate content but definitely limit it to a certain extent. This live streaming app marks its presence on various platforms including YouTube, Facebook, and WhatsApp.
The creators of #fame have very well understood that marketing is a race without a finishing line. Hence, the updation and constant improvisation of the published content is a unique business stratagem. The two distinct features: Live Video and Video on Demandfacilitate the well-liked and favoured features like live chat, fan-based and liking communities, etc.
If one wishes to create genuine customer value, then skilled professionals must look for something like #fame to reach out to the world. It not only helps them get an unbiased and honest review of their work but also stimulates excellence as everything they post is now in the public view. This app not only dissolves the mediator network but also gives more opportunities to the real talent available around us.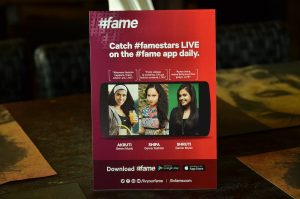 You can download #fame app using Google Play and IOS
Register here www.livfame.com and become famous
Follow here  www.twitter.com/livyourfame, www.facebook.com/livyourfame
Comments
comments