Glittering Gala: Maujaan Hi Maujaan Premiere Night
By Gurpreet Kaur | October 18, 2023
The dazzling night in Punjab's film industry unfolded at the glittering premiere of "Maujaan Hi Maujaan," held at CP 67 Mohali. This star-studded extravaganza was graced by esteemed actors, including the film's leading cast. Gippy Grewal, Binnu Dhillon, Karamjit Anmol, Jimmy Sharma, Tanu Grewal, and Hashneen Chauhan marked their presence. Besides them, producer Amardeep Grewal and director Smeep Kang also attended the event. Furthermore, the event marked a significant milestone in cinematic celebrations.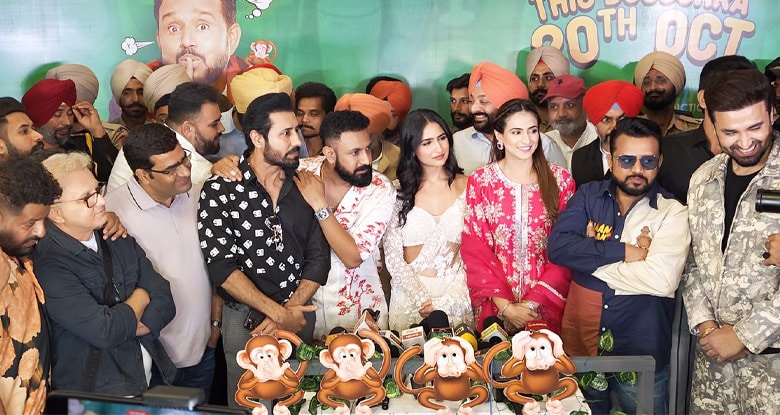 "Maujaan Hi Maujaan" promises to be a visual spectacle, uniting the finest talents in the Punjabi film industry. Moreover, the premiere radiated glamour, attracting celebrities and peculiar film enthusiasts to the red carpet. Next, directed by Smeep Kang, the movie weaves an enticing plot of comedy, drama, and entertainment.
Producer Amardeep Grewal shared their excitement, stating, "Presenting 'Maujaan Hi Maujaan' to the audience fills us with joy. The overwhelming response at the premiere underscores the dedication and effort of our entire cast and crew."
Gippy Grewal expressed his enthusiasm, saying, "Maujaan Hi Maujaan is a labor of love for all of us. It embodies the essence of Punjabi cinema. I take immense pride in our achievements, and I hope the audience enjoys watching the film as much as we relished creating it."
Besides them, Vaibhav Suman and Shreya Srivastava pen the captivating story and screenplay. While Naresh Kathooria writes the engaging dialogues of the flick. Lastly, East Sunshine Productions presents the movie while Omjee Group bags the global distribution rights.
Mark your calendars for the much-anticipated release of "Maujaan Hi Maujaan" on 20th October 2023. It's set to be a cinematic gem that will leave an indelible mark on Punjabi cinema.
Maujaan Hi Maujaan Trailer
Leave a Comment