Nikka Zaildar 3 Review: Laughter Ride Falls Short With Spooky Goof!
By Punjabi Pollywood Team | September 20, 2019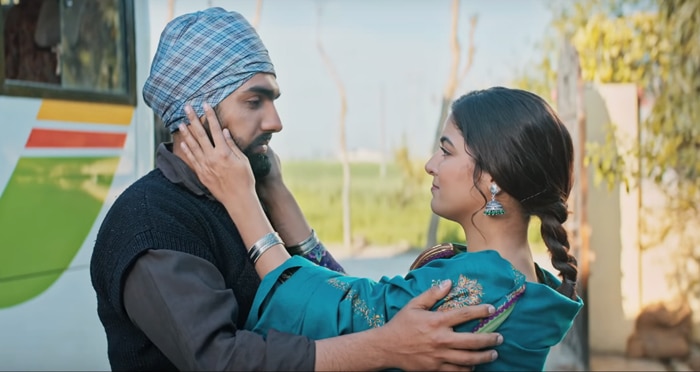 Cast: Ammy Virk, Wamiqa Gabbi, Sonia Kour, Nisha Bano, Nirmal Rishi, Sardar Sohi, Gurmeet Saajan
Director: Simerjit Singh
There was huge ballyhoo (hoopla) for the movie since the release of its trailer. Everyone is excited for the third edition of 'Nikka Zaildar' franchise after the successful run of earlier editions. So, if you guys are planning to book a ticket for one, this write-up is here to assist your decision.
Story Scan:
As probable, the movie revolves around 'Nikka' (played by protagonist Ammy Virk) who lives in a village of Punjab with his extended family with his grandfather, Bhaag Singh (Sardar Sohi) ruling the house. To everyone's ill-fortune, Bhaag Singh is an extreme miser and doesn't believe in spending any amount to provide any good life to his family. Everyone is chafed due to his crude behavior, especially the new daughter-in-law in the family named Shanti (played by Nisha Bano). She is always busy cursing Bhaag Singh as the latter doesn't allow her to live on her own terms. And finally, her wish gets answered when in a topsy-turvy situation Bhaag Singh dies. With mixed emotions, his family bid him last adieu and (almost celebrates) his final rituals.
In the middle of this comical mess, there blooms a love-tale between Nikka and Preet (Wamiqa Gabbi) with Nikka sure about his feelings for her, and Preet is still figuring out.
The change of events takes place when Bebe (played by Nirmal Rishi) dons her iconic avatar and takes up Bhaag Singh's throne. But to her ill-fate, she could not enjoy the powers for long as her husband (Bhaag Singh) is back. Yes, his spirit (embodied in Nikka) returns to haunt the family yet again. Here on, the story pitches the pace with Nikka conducting as Baapu ji. Pestered by his strane antics, the family takes Nikka to several sages who exorcise spirits trapped in human bodies. From here begins the laughter riot. Without breaking in the highlight, we would advise to give it a watch.
Performance Pitch:
Talking about the performances, Ammy Virk once again gets into the skin of the character Nikka and he nailed it. Wamiqa Gabbi as Preet is gorgeous and she played her role pretty well. Her (otherwise copied) poetry manages to bring few smiles. Sonia Kour as Dimple, though had a minimal role, delivered it substantially.
Nirmal Rishi as Bebe is always a winner with her immaculate acting skills. Her performance and dialogue delivery are something that every new or aspiring actor should look upon. Special mention about Nisha Bano as Shanti who showcased her sharp character with hilarious dialogues, the actress is proving her mettle in acting with every new project. The remaining cast sported their characters well and makes a significant contribution.
Music & Presentation:
There are three songs and are pretty good as far as it is not disturbing the flow of the movie. On the technical grounds, location lacks luster as the entire movie is shot in the similar rural backdrops. There are no such 'aww' moments in the movie and is quite predictable. However, the wit and humor streams stable throughout the movie.
Vital Verdict:
Nikka Zaildar 3 is a light-hearted family movie. Treat for Ammy Virk fans; the movie surely deserves one-time watch at least. Set amidst the village in Punjab, it rolls out a typical state culture laced in affection and hilarity. It presents a different story with a spoofy take on today's superstitious society entrapped by thug sages.
Leave a Comment