Jodi Review: Sitaara & Neelam's Heartfelt Love Story Coupled with Musical Spectacle!
By Amanpreet Kaur | May 6, 2023
Jodi Review
The Punjabi movie Jodi has finally hit the big screens. Starring Diljit Dosanjh and Nimrat Khaira in the lead, the movie is written and directed by Amberdeep Singh. The drama film comes out to be a complete family entertainer that displays an impeccable blend of love, comedy, emotions, and music. Read on to know more about the film!

Story Scan
Set in the old era, the movie begins showing the childhood struggle of Sitaara. He lost his mother, and give up his studies to look after his younger brother and sister. Furthermore, he was fond of composing songs from an early age, whatever he looks or encountered around, he compiles into a song. Eventually, the young lad sign up for singing classes to learn the art and dedicate life to his ustaad (Hardeep Gill). However, this take an ugly turn when he was ditched by the latter. So, Sitaara firms out to build his own jodi. Initially, he makes a duo with his ustaad's partner Komal (Drishti Grewal). After being paid less, he endeavours and succeed to become a jodi with a female lead of that era Neelam.
Now, the jodi becomes in demand and highly popular among the masses. Subsequently, other singers go envious and try every possible effort to pin them down. While Sitaara and Neelam fall in love and eventually tie the knot against everyone's will. But, things do not go as planned and they now need to face the biggest challenge of their lives. To know more, watch the new Punjabi movie Jodi in your nearest theatres.
Performance Pitch
To start with, Diljit overpowered the movie with his flawless acting skills. After the Punjabi film 'Punjab 1984', it is the movie that has given him the essential room to demonstrate his art of acting through various emotions. Besides him, Nimrat looks splendid and performs well up to the expectations. Together, their on-screen chemistry looks captivating, and are highly adored as Jodi. Moreover, Hardeep Gill portrays a strong and imperative role. Actor Jarnail Singh appears for a scene and it uplifts the movie to another level.
Next, actress Neha Dayal has a small role but she also just nailed it. Actor Harsimran strikes a balance between positive and negative shade while displaying his character. Mintu Kapa flawlessly showcases a decent caring brother (of Neelam) character. Ravinder Mand, as Ustaad's associate and Sitaara's manager, demonstrates his talent well. Overall, every character makes a significant contribution to executing the movie as a whole.
Direction & Cinematography
Amberdeep Singh is the name to remember. He is the shining star behind the fascinating display of art. His direction as well as story writing have added feathers to the movie's success. He has immaculately incorporated a real-life incident into reel life. The story is both heart-touching and easy to understand. Amberdeep has inter-wined all crucial elements – love, romance, laughter, and pain to make the movie memorable. After Anurag Singh, someone who took this level of acting work from Diljit, is Amberdeep Singh.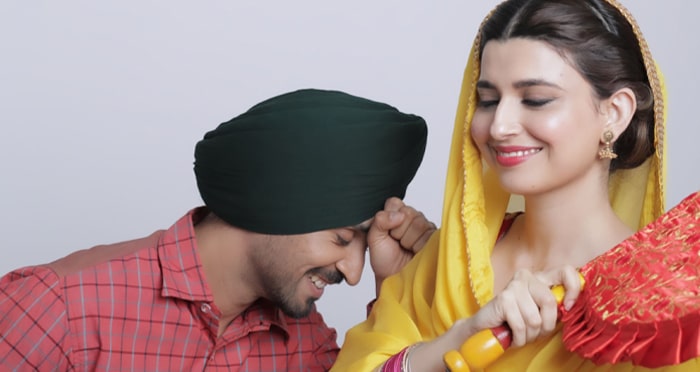 Besides him, cinematographer Sandeep Patil succeeds to complement the demand of the movie – to illustrate the sense and significance of old Punjab. From Ludhiana bus stand, markets, stage shows, houses, and rustic villages, everything comes alive in the screenplay. In addition, costumes also deserve an essential mention and appreciation.Dialogues could have been a little stronger but it was a musical journey, so viewers won't miss it so much.
Music
The music serves as the USP of the movie. From the start of the movie, the music flows till the end. Initially, during Sitaara's struggling period, Amrinder Gill's song Jinde takes off the story ahead. The entire movie has a musical vibe throughout. Also, most of the songs played live and not in the backdrop. Songs like Jigra Te Laija Gabrua, Takue Chalaon Ni Main Janda, Chan Warg, Jodi Teri Meri, etc. comprehend the story and transport viewers back to the era of the 80s.
Vital Verdict
The Jodi is about the struggle of an artist who rose to fame on his own hard work. Despite family and financial constraints, how an artist meets his desires. Further, he falls in love and leads a committed life. However, the evil of jealousy kills humanity and therefore, how every popular personality needs to bear its brunt. Overall, a reality check and a heart-felt movie. Must-watch!
Leave a Comment