Jhalle Movie Review: Binnu Dhillon Is the Star of the Show!
By Sonia Khanna | November 15, 2019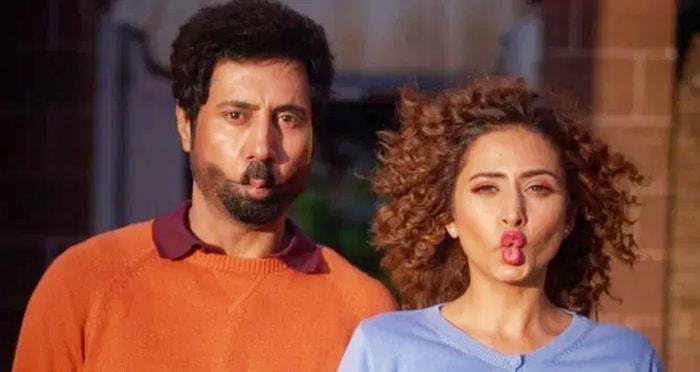 Cast: Binnu Dhillon, Sargun Mehta, Pavan Malhotra, Harby Sangha
Director: Amarjit Singh
The much-hyped movie, Jhalle has hit the silver screen today. As the name suggests, the movie is literally insane in terms of several aspects which will be discussed below. As you may be excited to book your seats for the flick, we are here to help you frame your decision on the same. Read on!
Story Scan:
The story revolves around Neena (Sargun Mehta) and Ballu (Binnu Dhillon). The former stays with her family in the UK countryside. While Ballu has no family, but two supportive friends. Both Neena and Ballu struggle through strange psychological disorders.
The story begins when Neena's father wants to marry her daughter and the latter does not find any suitable match. She goes away from home for a medical checkup and there she encounters Ballu. At once, she fell in love with him. Furthermore, she invites Ballu to visit her home and family. Ballu reaches her place with his two friends. From here, the movie picks up the pace and laughter rolls in. Also, Ballu gets some weird fits time and again that adds to the spice of the otherwise a little slow movie. Set up in dark and dreary look, the movie lacks some really good moments and power-pack dialogues. The climax of the movie reveals the reason of their insanity that turns to be a little vague.
Performance Pitch:
Binnu Dhillon stands out the crowd, without a doubt. His immaculate acting skills speak volume about his experience in the industry. As Ballu, he portrays the epic role in his own peculiar panache. He is loving hearts. Sargun's character is quite challenging, but she pulled it off really well. She deserves a round of applause too. However, Harby Sangha and Baninderjit, as Binnu's friends, deliver spectacular performances. They add the much-needed humour in the story. Pavan Malhotra, as Sargun's father, played a decent role as any girl's father who is possessive and insecure. In specific, Sargun's granny, reprised by Jatinder Kaur completely justifies the character. The other supporting cast manages to contribute as much as required.
Music & Presentation:
The Punjabi movie has four main songs and it is the title track getting so much love from the fans. Sung by Gurnam Bhullar, it is topping the charts. Besides it, Ammy's Laat Wargi takes up the second spot. Talking about cinematography is quite fascinating. An ideal mix of techniques and tools, make it a competent presentation. Locations are breathtakingly beautiful. It has displayed an enchanting part of the UK.
Vital Verdict:
If you're a die-hard fan of Binnu Dhillon, you can surely watch Jhalle. He endeavors to put forth a new and different side of his personality, and he emerges out as a winner. All in all, it is the Jhalle movie, by the Jhalle and for the Jhalle! Have Fun!!!
Leave a Comment