7 Best Binnu Dhillon comedy movies for Unlimited Laughter
By Sonia Khanna | October 28, 2019
If you are having a dull day, watch out Binnu Dhillon comedy movies, it will surely jest up your mood. Binnu Dhillon is the versatile actor in Pollywood. He is known for his immaculate comic timing as well as his flawless acting. Indeed, he is the blessed artist who exhibits a master performance in whatever role he is engendered with. His mere presence on-screen, whether in lead role or supporting cast, adds value and power to the movie. Hereby, presenting some of the most impactful movies which present different shades of Binnu Dhillon.

List of Binnu Dhillon Comedy Movies:
1. Carry on Jatta 
A complete laughter riot, the movie garnered a lot of applauding and appreciation from the viewers. Thanks to its amazing cast comprising Gippy Grewal, Jaswinder Bhalla, Gurpreet Ghuggi, and specifically Binnu Dhillon. The story of the movie revolves around Jass, who falls in love with Mahie. As the latter is interested in marrying an orphan, they both marry each other, and former hides his marriage from his family. Binnu is Jass' brother and a lawyer by profession. His habit of probing and interrogating people become a subject of utmost laughter. Furthermore, the humorous punch lines and dialogues of the film become a huge rage amongst the youth. It became the fodder for viral memes and troll.
Directed by Ksshitij Chaudhary, this movie left audience in-splits with finest comedy and the hilarious performance. Binnu Dhillon takes up the front seat and rolls out the amazing role of Deputy, Neeru Bajwa, and Japji Khaira. His character aspires to be an actor since his childhood, but due to lack of opportunities he ends up becoming a Surpnakha in local community Ramleela.  The most captivating part is when Binnu reprises the character of a woman and leaves the audience in-splits. His body language, expressions, and feminine presentation are adored by viewers.The topsy-turvy life begins when he along with his friends shifts to another town.
From supporting cast to main lead, Binnu has proved his mettle over the years in the industry. He is playing the central character who falls in love with a woman, he lies to his family about her due to his grandmother's hatred for Pakistanis. The movie is a hilarious ride with innumerable witty liners and dialogues. Therefore, with a rib-tickling laugh, the film makes it to our must-watch list.
It is period drama movie with fascinating star cast Ammy Virk, Simi Chahal, Sheetal Thakur, and our very own Binnu Dhillon. The movie revolves around Channan Singh, who falls in love with Channo and ferries her on his bicycle. However, Resham Singh played by Binnu turn the events while arriving on a new motorbike. Binnu's character is full of pride with a little flair of fun. He is a typical son-in-law of a Punjabi family. Top it all, his English made everyone laugh, few of his dialogues include 'Bullshit Bullshit Ho Gyi Thi …' and 'Janani Te Saadhan Jinna Sambhal Ke Rakho Unhe Wadd Chalde Ne'.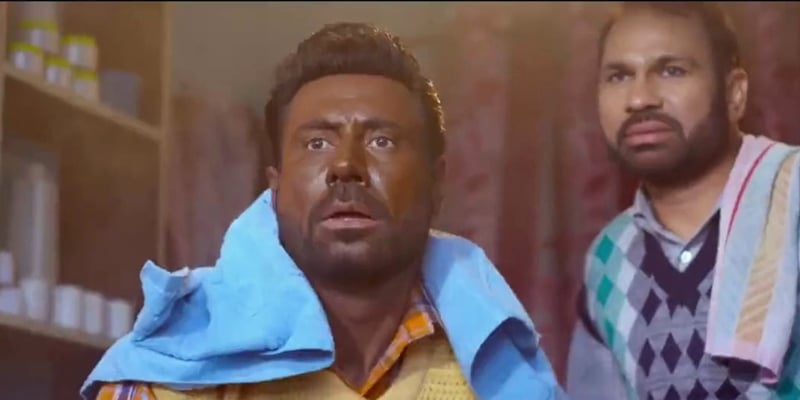 Punjabi comedy movies have undergone an amazing lift in the recent years. With all new fascinating stories and impelling performances, the Punjabi Cinema is taking up a notch higher. Kala Shah Kala is one of those amazing films where Binnu is playing a lead role alongside Sargun Mehta and Jordon Sandhu. It is rom-com where a happy-go-lucky man struggles to win the love of his life. It depicts that no color defines love, rather it is the affection and honest feelings for one another.
Binnu Dhillon has not only acted in the movie, but has made a contribution as producer as well. The movie was a hit. Moviegoers appreciated the efforts and performance of Binnu who played the central role, Pargat. He falls in love with Gagan and somehow manages to convince her parents for their marriage. The situation turns odd (or hilarious) when he loses his eyesight just before his wedding day. His performance and acting were highly appreciated by viewers.
With an extended cast – Binnu Dhillon, Kavita Kaushik, Amrinder Gill, Ranjit Bawa, Jaswinder Bhalla, the movie grabbed many eyeballs and applauds. Binnu is leading the movie as Jaggi, a Sikh Jat from Punjab, serving as a bus conductor, falls in love with Sarla, a woman from Haryana. He wants to marry her, but before that he needs to marry a dog as advised by a local priest. With a strong message towards the end, the movie is a sure package of drama and humour. It is the most unique wedding you ever witnessed.
So, what are you waiting for? Pick out your favorite Binnu Dhillon comedy movie and relish it … err … laught it out. Cheers!!! Also, don't forget to share your choices or Binnu's famous dialogues that you like the most.
Leave a Comment