Poster Out : "Titanic" is coming in Punjabi will star Raj Singer Jhinger
By Punjabi Pollywood Team | August 22, 2018
You may have watched Hollywood movie 'Titanic' many times. Hopefully, you had enjoyed the movie in 3D effects as well. But, what if you come to know that "Titanic" is coming up in Punjabi? Yes, it's a big surprise for the audience of Punjabi movies that in this coming September, Punjabi cinema is witnessing a new mega experimental movie namely Titanic starring Sade Aala Bai "Raj Jhinger".
A much-dedicated actor of Punjabi entertainment industry 'Raj Jhinger' is giving his best and trying to present versatility utmost level. In this row, he is coming up in Ravi Punj's written and directed Punjabi movie 'Titanic'. The poster of this upcoming Punjabi movie Titanic has been released and seems to be an out of the box concept. The poster has a tagline in Punjabi, " ਸੋਚਿਆ ਤਾਂ ਸੀ ਨੇਵੀ 'ਚ ਭਰਤੀ ਹੋ ਕੇ ਸਮੁੰਦਰ ਦੀ ਹਿੱਕ ਤੇ ਨੱਚਾਂਗੇ . . . . ". Also it is having two youth saluting someone, thus the movie must have a connection with patriotism or navy.
Official Poster of 'Titanic' Punjabi Movie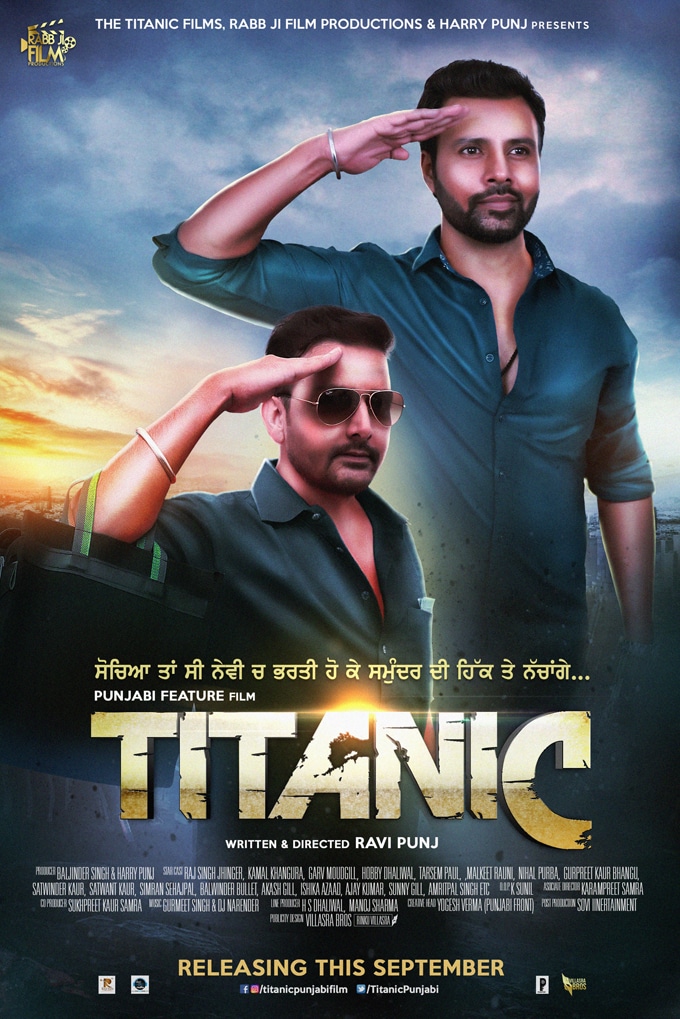 From all this, we can have an idea that this movie will introduce the youth of Punjab that wishes to serve the nation by joining the Indian navy services, but will they couldn't achieve that dream? If can't then what they are going to do? We can simply say that this film will be definitely more than general comedy or masala packed show. So you should definitely wait eagerly for this new Punjabi movie Titanic.
Recently, you loved Raj Jhinger's performance in Ammy Virk Starring movie 'Harjeeta', in which Jhinger played the character of Junior Hockey Team's captain's elder brother. Earlier he played a prominent role of 'Laala' in Punjabi movie "Sikander". Apart from that, he rocked Punjabi song videos by his presence in Sharry Mann's songs.
The production house of this movie has a very interesting name that is Rabb Ji productions by Baljinder Singh and Harry Punj. The star-cast includes itanic P, Kamal Khangura, Garv Moudgill, Hobby Dhaliwal, Malkeet Rauni, Gurpreet Kaur Bhangu, Tarsem Paul and Nihal Purba. The music has been composed by Gurmeet Singh and DJ Narender.
Leave a Comment