Popular Celebs Step Out in Punjabi Traditional Dresses
By Sonia Khanna | October 14, 2019
Punjab is widely-known for its rich heritage and bright Punjabi traditional dresses all across the globe. The state flaunts the oldest culture of the world in every possible way. It is engulfed with striking colours and high-spirited people that can be well-presented through traditional garbs (clothing). The Punjabi attires have gained popularity in recent times, thanks to the entertainment industry that paves way to its glorious diversification and acceptability among different parts of the world.
Majorly, the credit goes to our Punjabi cinema that contributed massively in an extensive spread of Punjabi culture through innumerable shows, videos, movies, and music projects. Pollywood celebrities are the most elegant people who always carry themselves in panache and élan. From their outfits, footwear to accessories, you wish them to have it all.
List of top-trending Punjabi Traditional Dresses
1. Ammy Virk in Printed Kurta-Pajama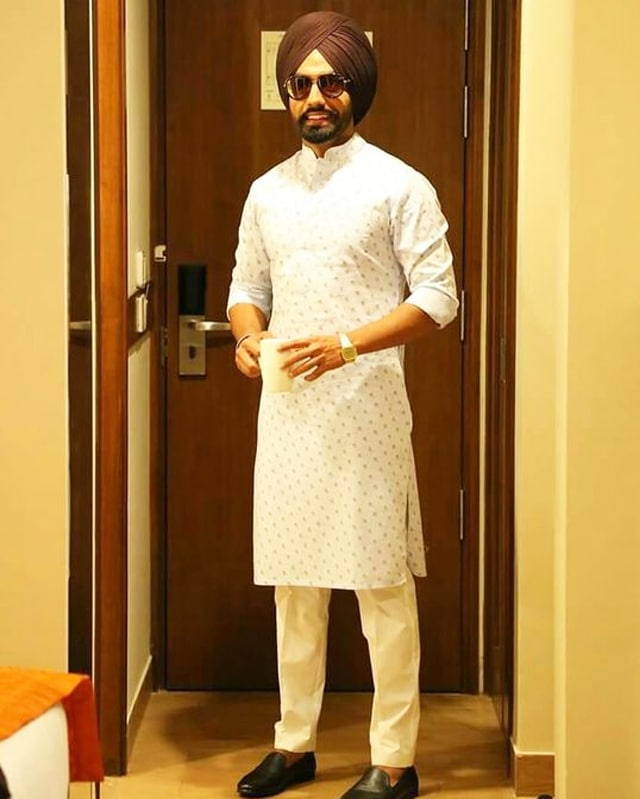 One of the finest stars of Punjabi Cinema Ammy Virk carries the style with panache. He definitely believes in putting the best fashion foot forward. In the picture, the actor is oozing oomph from the top to toe. Right from his brown-coloured customary turban, contemporary glares, his ethnic silk Kurta pajama to his chic shoes, Ammy is looking every bit of a fashion icon. Furthermore, since the festivities and wedding season are around the corner, this could be your ideal pick for any occasion or celebration.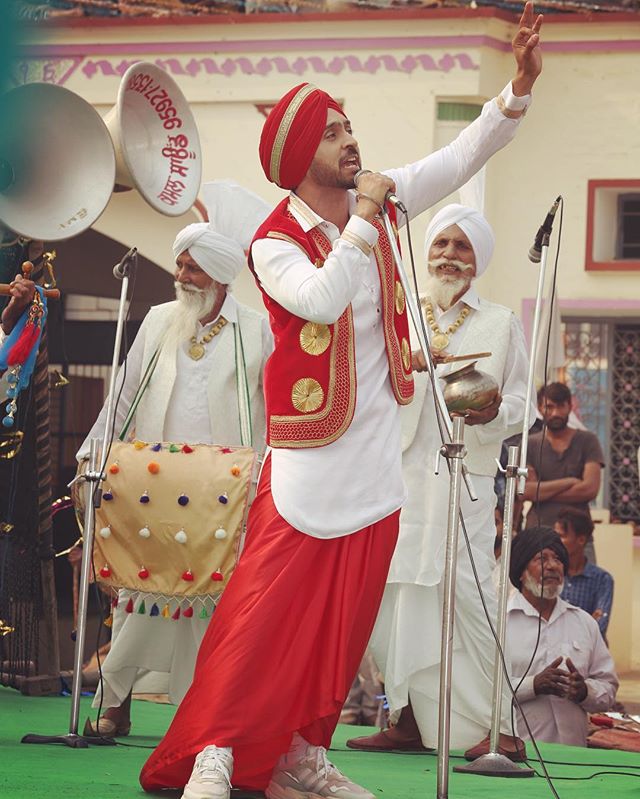 He is indeed the man of the hour. Diljit is notching up the fashion trends with his international music collaboration as well as his larger-than-life presence across the television. He has attained wider recognition after his Bollywood stints. Besides his soulful voice, this guy stands out the crowd. Here Diljit is seen donning a cultural combination of Kurta, Chadra and Jugi (waistcoat sans buttons). It's a typical dress that defines Punjab and its majestic culture. It can be worn out on traditional events.
3. Nimrat Khaira in Gotta-Patti Punjabi Ghagra Suit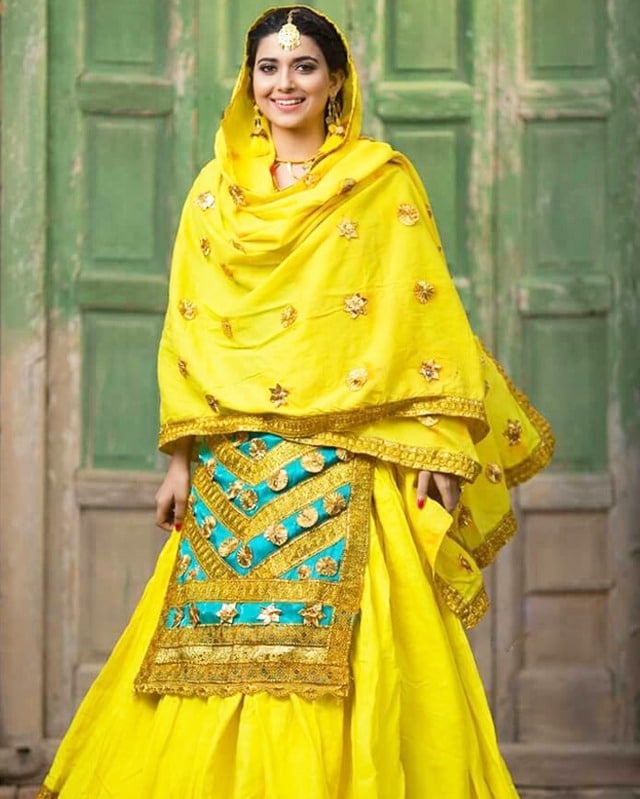 The ever-gorgeous Nimrat Khaira is surely adding the zest in the fashion wave. Here is wearing a bright yellow ghagra suit with a blue-coloured kurta with an intricate gotta-patti work. The Punjabi ghagra originally developed in Punjab and is now worn in several parts of Haryana and Himachal Pradesh. It is mostly donned during 'Giddha' a famous folk dance of the state performed by women. As you twirl, it displays mesmeric colours reminiscent of the state's authentic culture. It is hot-favourite among new-age girls. With the passage of time, it has undergone modern alterations.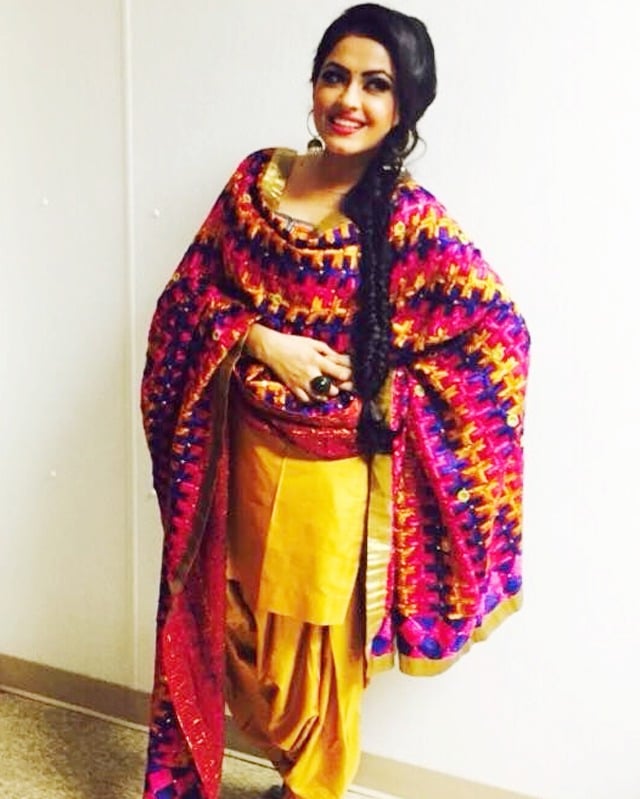 Simi Chahal, the oh-so-beautiful actress has proved her mettle in her recent releases with her immaculate acting and poise talent. For short and petite girls, she is an inspiration. She carries herself with a confidence and a class. Here she is wearing a Phulkari, means flower craft that has been nestled in the culture of Punjab and dates back to the 15th Century.  It is a multi-coloured and bright embroidery dupatta available in a distinctive pattern. It delivers volume about the women and their clothing aspirations. This is a must in every girl's wardrobe, thanks to its versatility.
5. Sonam Bajwa in Punjabi Salwar Suit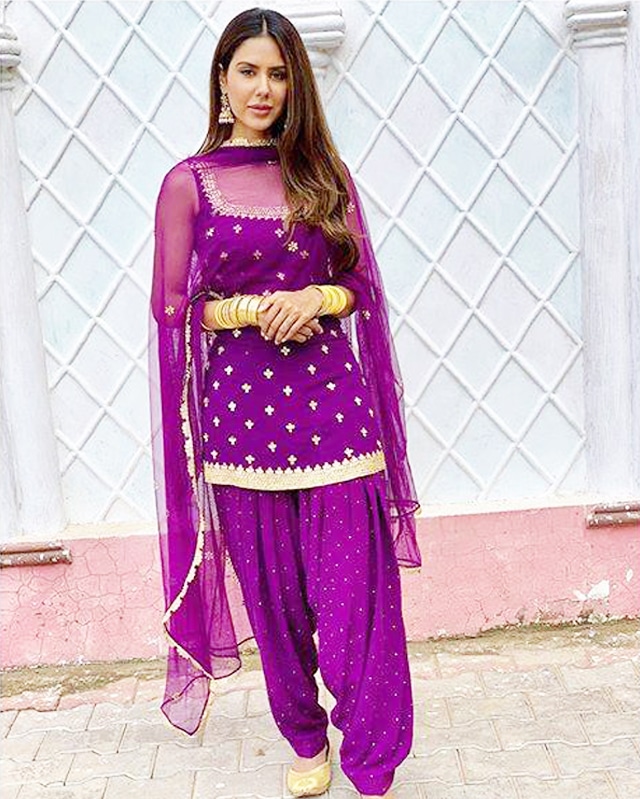 The fashion diva, Sonam Bajwa looks drop-dead gorgeous when she gets into the Punjabi traditional dresses. The fierce and powerful Sonam is quite particular when it comes to style and vogue. She renders due concern on opting the best outfits that exemplify as well as portray her personality well before the world. When it comes to smart dressing, she serves as an idol for thousands of women. Here she is wearing the authentic Patiala Salwar suit in deep purple color. The short shirt with furled up baggy and pleated pants is an eye-catching drape followed for long in the state. Besides several modern designs, it still keeps in touch the tradition it was foraying with. United with elegance, it is one of the most comfortable dresses in Punjabi culture.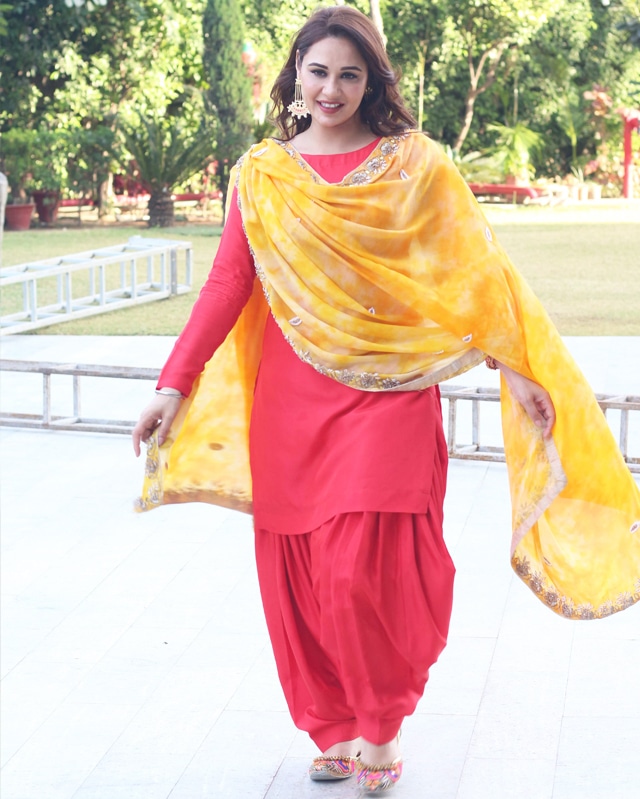 An enchantress Mandy Takhar has become a household name after delivering amazing performance in the movie Rabb Da Radio. Her resplendent personality makes her one-of-a-kind. By the way she is a British actress! She is fond of Punjabi culture and articles that depicts the significance of the state. Here she is wearing Punjabi Jutti, the flamboyant footwear of the natives. It has been a part of splendour and royalty of the kings for around 400 years. These juttis are handcrafted and embroidered. Furthermore, both men and women can wear it. The footwear can be your best pal when it comes to weddings, festivals, and ethnic traditional events.
To recapitulate, it is our blend of popular celebrities and their obsession with Punjabi traditional dresses. If you know any other celeb who can make it to our list, kindly comment below! Till then, ciao!
Leave a Comment