Mr Jatt Punjabi Songs: Top 20 Songs on Jatt Culture
By Sonia Khanna | May 17, 2020
The Punjabi music industry has successfully touched zillions of lives with its widespread domains of music. It further rolls out the deep-rooted traditions of enriched Punjabi civilisations. Mr Jatt new songs is the expansive collection of top 20 songs depicting the Punjabi Jatt culture. People sitting across different parts of the world ardently follow and acclaim Punjabi songs and Punjabi videos.
Besides these, the single tracks by several Punjabi singers are gaining popularity with each passing day. In short, Punjabi music is now everyone favorite on their regular playlist(s). From folk, classical, Sufi, to rock, Mr jatt Punjabi songs offer diverse styles of music. Moreover, the evolution and the impact of Punjabi music industry is predominantly evident beyond boundaries.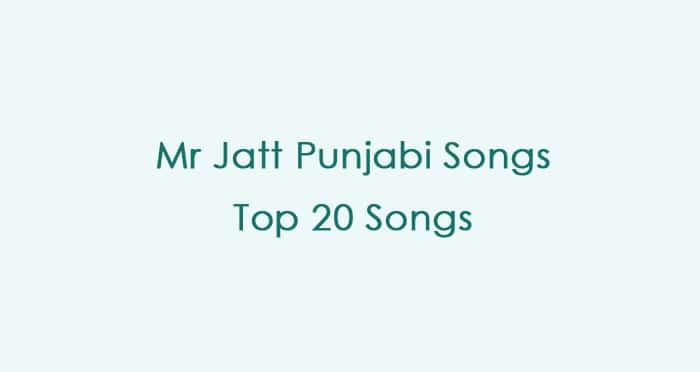 Here is the list of famous Mr Jatt songs:
1. Jatt by Garry Sandhu (song duration 03:42 mins)
2. Expert Jatt by Nawab (song duration 03:25 mins)
3. Jatt Da Muqabla by Sidhu Moosewala (song duration 03:29 mins)
4. Jatt Di Star by Avkash Mann (song duration 03.13 mins)
5. Putt Jatt Da by Diljit Dosanjh (song duration 02:47 mins)
6. Jatt Hunde Aa by Prem Dhilon (song duration 03:00 mins)
7. Jatt Da Blood by Mankirat Aulakh (song duration 03:04 mins)
8. Jatt Rule by Aarsh Benipal (song duration 03:50 mins)
9. Pind Jatt Jatt Kehnde by Karan Aujla (song duration 05:36 mins)
10. Subah Jatt Da by Amrit Mann (song duration 03:51 mins)
11. Jatt Sirra by Upkar Sanshu (song duration 03:36 mins)
12. Jatt Hunne AA by Gur Sidhu (song duration 03:51 mins)
13. Jatt De Jawak by Jass Bajwa (song duration 03:16 mins)
14. Dil Jatt Da by Gulab Sidhu (song duration 03:03 mins)
15. Weak Point Jatt Da by Savvy Nagra (song duration 02:26 mins)
16. Jatt in Hummer by Arsh Maini (song duration 04:39 mins)
17. Vair Jatt De by Jimmy Kaler (song duration 04:35 mins)
18. Jatt Zimidaar by Gurnam Bhullar (song duration 03:35 mins)
19. Jatt Da Pajama by Diljit Dosanjh (song duration 02:48 mins)
20. Bamb Jatt by Amrit Mann and Jasmine Sandlas (song duration 04:21 mins)
Therefore, these are the Mr Jatt top 20 songs and the list goes on. Similarly, few songs, such as Jatt Di Radak by Bukan Jatt after flashing the fascinating teaser recently, is all set to release the full song soon.
Furthermore, to know jatt culture in even more detail, you can simply lookout for the lists of Jatt movies, like Jatt & Juliet, Jatt James Bond, Jatt & Juliet 2, Jatt 420, Jatt Jugadi Hunday Nay and many more. So, what are you waiting for? Put in your ear plugs and listen to these amazing mr jatt remix songs, mr jatt dj songs, mr jatt sad songs etc. Enjoy and have fun!
Leave a Comment