Kali Jotta Box Office Collection: Falls Short of Expectation at BO
By Harpreet Singh | February 7, 2023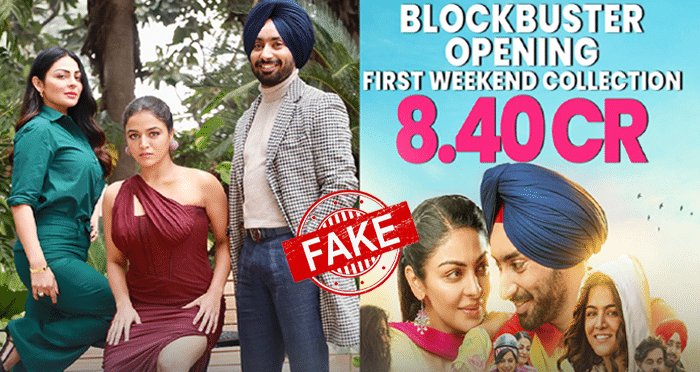 The Punjabi movie Kali Jotta is a love-drama that hit the big screens on 3rd February 2023. Directed by Vijay Kumar Arora, it is a story of a young Rabia whose life gets dominated by male counterparts. Furthermore, the star cast involves Neeru Bajwa, Satinder Sartaaj, and Wamiqa Gabbi. Did the movie appeal to the viewers? Read the Kali Jotta box office collection report.
The makers of the movie are claiming some figures that are far away from reality. The actual data depicts a different story.
Also Check – Kali Jotta Movie Review
During the first weekend, they claim to earn 8.40 crores total across domestic and overseas markets. Furthermore, the flick earned 50.01 lakh in the USA, 2.94 cr. in Canada, 32.4 lakh in the UK, 84.81 lakh in Australia, and 90,700 in New Zealand. Specifically in Australia, due to an extensive Punjabi diaspora, a decent Punjabi movie is expected to reach the 2 crore mark. However, Kali Jotta fails to spell the magic and could not make it to even a 1 crore club.
In Punjab, the movie performed well during the weekend but there was no house-full-like situation. Evidently, the makers make a false claim in view of the BO collection. The probable reason is the high popularity of Shahrukh Khan starrer Pathaan, nailing overseas collection.
Kali Jotta Box Office (First Weekend)
USA – 50.01 Lakh
Canada – 2.94 Cr
UK – 32.4 Lakh
Aus – 84.81 Lakh
New Zealand – Rs. 90,700/-
Kali Jotta Box Office (Till Second Weekend)
USA – 1.35 Cr
Canada – 6.94 Cr
UK – 88.6 Lakh
Aus – 2.18 Cr
New Zealand – 15.68 Lakh
Kali Jotta Box Office (Till Third Weekend)
USA – 1.76 Cr
Canada – 10.95 Cr
UK – 1.02Cr
Aus – 2.71 Cr
New Zealand – 24.04 Lakh
Kali Jotta Box Office (Till Six Weekend)
USA – 1.98 Cr
Canada – 13.09 Cr
UK – 1.47Cr
Aus – 2.99 Cr
New Zealand – 28.51 Lakh
Leave a Comment