Kali Jotta Movie Review: Neeru Bajwa Displays Masterpiece of Art
By Sonia Khanna | February 3, 2023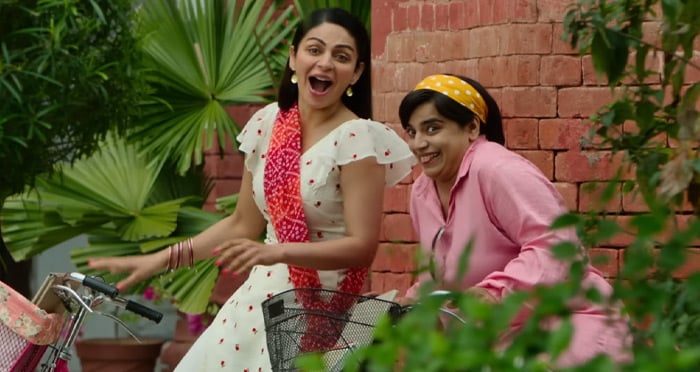 Kali Jotta Movie Review
Kali Jotta movie featuring Neeru Bajwa and Satinder Sartaj has hit the big screens today. Kicking off the month of romance with a heart-touching love story, the new Punjabi movie is here to enthrall viewers by demonstrating a deep social message. Directed by Vijay Kumar Arora, read on to know how much it succeeds to impress moviegoers.
Story Scan
The story revolves around Rabia (Neeru), a happy-go-lucky young girl. Moreover, her life is full of excitement, love, and humour until her life encounters the predefined societal norms against women. Once a joyful girl is now coerced to lead a gloomy and depressed life. Furthermore, it takes distinctive turns which display it all like love, hate, laughter, aggression, and some heart-wrenching moments. You need to watch Kali Jotta movie to know more about it.
Performance Pitch
Neeru Bajwa as Rabia takes a massive chunk of appreciation for her par excellence performance. Over the years, Neeru Bajwa has proved her mettle immaculately and precisely. Besides her, Satinder Sartaaj as Didar makes a substantial contribution to igniting the flame of the movie. In addition, actress Wamiqa Gabbi also plays her part brilliantly. The supporting cast Prince Kanwaljit, Nikita Grover, Rupinder Rupi, Suvinder Vicky, Raj Dhaliwal, and CJ Singh well-portray their characters to keep viewers hooked.
Dialogues & Direction
Another interesting fact about the movie is that it is written by a female writer, Harinder Kaur. It is the first time ever a female writer displayed her story on the silver screen. So, full marks for her story and creativity. Earlier, she penned songs for the movies Munda Hi Chahida and Guddiyan Patole. Next, the director Vijay Kumar Arora takes credit for the brilliant execution of the Kali Jotta movie. His skills make it look even more impressive than expected. However, locations could be extended to comprehend the story. Also, the college costumes went over-board in desire to show it colourful.
Music
When there is Satinder Sartaaj, the music department need not worry. Soulful and beautiful songs like Rutba and Nihar Lain De in the movie soothe your ears and tickle your hearts. The magical voice of Sartaaj transports you into a world of peace and calmness. Also, singer Sunidhi Chauhan's voice in the song Naach, along with Sartaaj, is truly mesmerizing. Singer Rza Heer also lends her voice for a song.
Vital Verdict
The movie has presented several dimensions in the lives of men and women. Furthermore, a heart-touching storyline will put you under several realizations. This is the kind of movie that works to transform the mind of people and to bring a positive change in society. A welcome change that you will relish!
Leave a Comment