Find out What Pollywood Celebs Doing During Corona Vacay!
By Harpreet Singh | March 20, 2020
The entire world is on house-arrest owing to the deadly spread of Covid-19 virus. In such a stand-still situation, every person is resorting to peculiar ways to utilize the time. While some are busy spending quality time with their families, others are occupied unleashing their creative side. Let's check out what our favourite Pollywood celebs are up to during this Corona vacay.

Sonam Bajwa:
Since the gyms are shut, the fitness regime is carried out in homes by several celebs. One such is the gorgeous Sonam Bajwa, who took to her social media handle and share a video. She is sweating it out while exercising in the parking compound of her apartment. In addition, she put a message for masses to stay alert and safe.

Gippy Grewal:
Amidst the panic, these celebrities brings the countless ways to the most of this time besides precautions and safety. Actor Gippy Grewal is delightful to spend moments with his family and specifically his newly born son. He shared some glimpses on his social account.
Sunanda Sharma:
Furthermore, the sensational singer Sunanda Sharma has organised a religious ceremony at her place. She is happy seeking almighty's blessings!

Parmish Verma:
While heartthrob Parmish Verma is busy exploring short distance places around his home. His Instagram stories say it all.

Amrinder Gill:
Chal Mera Putt 2 star Amrinder Gill is engaged in reading novels and reminiscing his childhood memories. His social media account captures it.

Jasmine Sandlas:
Illegal Weapon fame Jasmine Sandlas is feeling playful. Her pictures gaming carom board has gone viral. She further appeals general public to take necessary steps and secure oneself.

Diljit Dosanjh:
Last but not the least, the global icon Diljit Dosanjh is brushing up his culinary skills during this Corona break. He posted a picture of noodles on his account!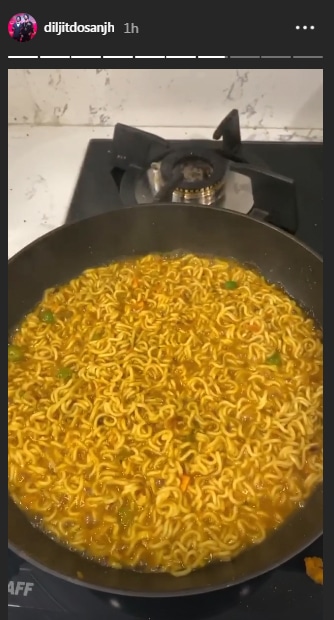 Well, this is what our Pollywood artists are up to nowadays. By the way, the Corona virus has affected people worldwide. So, the preventive measures must be adhered properly to combat its spread. Make your impact worthy contribution. Don't forget to wash your hands and kindly maintain social distance.
Safeguard yourself, safeguard the nation!
Leave a Comment