"Ah Sunn La Ni with Proof Kangana," says Diljit Dosanjh
By Gurpreet Kaur | December 3, 2020
It's been a week since the farmers are protesting in Delhi against the Farm Amendment Bill. Thousands of farmers and their families are staying up on the highways and bearing the mar of severe cold. The situation is definitely sensitive as the lives of farmers are at the stake. Furthermore, it involves all-age people from youngest to oldest.
Despite, extending support, Bollywood actress Kangana Ranaut recently made an utter insensitive tweet for a 73-year-old lady Mohinder Kaur sitting in the protest.  Kangana tweeted her photograph and mentioned that she was the same Dadi who was part of the Shaheen Bagh protest. And now she has joined the farmer's stir. She further alleged that she is available for protest for Rs. 100.
To which the entire Punjabi entertainment industry stand rock solid and knocked Kangana down for her words. The singer-actor Diljit Dosanjh tagged the actress and posted a powerful video clip slamming Kangana by Mahinder Kaur on all his social media handles. The lady who is a farmer explained her tough life from harvesting to feed her entire family. Moreover, Diljit captioned the video, "Ah Sunn La Ni With Proof @KanganaTeam" Banda Ena V Ni Anna Hona Chaida. Kush v Boli Turi Jandi aa."
Diljit Reply to Kanagana Ranaut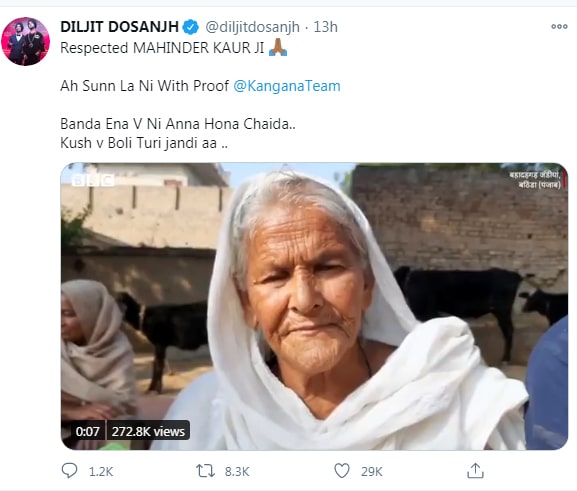 Besides Diljit, several other celebs like Ammy Virk, Himanshi Khurana, Parmish Verma, Kanwar Grewal, Amrit Mann, and others have lashed out at Kangana for disrespecting an old lady regardless of being a woman herself. Facing the utter backlash and criticism, Kangana deleted her tweet.
The farmers are fighting for their rights to secure their own produce and land from the clutches of private companies. While the Govt. is making efforts to resolve the matter, the nearby states are also coming in to support the cause.  In such a situation, if one can't do any good, one must refrain from saying or enacting any bad too.
Leave a Comment