Diljit Dosanjh & Nimrat Take the Kitchen Test to Become an Ideal Jodi
By Amanpreet Kaur | April 29, 2023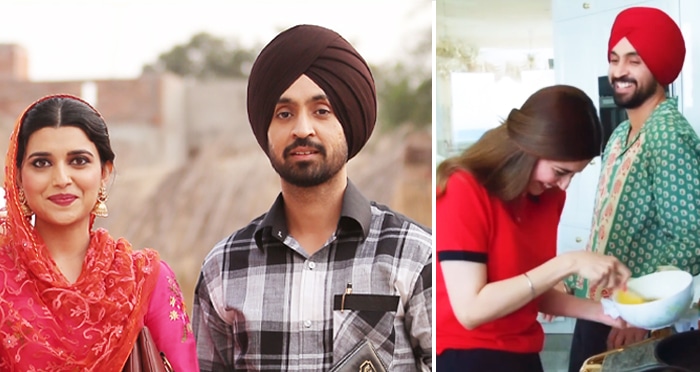 Diljit Dosanjh is back on social media post his victorious performance at the prestigious Coachella event. He is the first ever Punjabi singer to perform there. And now the singer-actor is all set to entice the viewers with his forthcoming movie Jodi with Nimrat Khaira. The duo has already spelled their magic with their on-screen chemistry in their songs and now their off-screen tuning is taking the internet by storm.
Diljit took to his social media account and shared a video where they take a kitchen test in view to become the ideal Jodi. Nimrat cooks (rather attempts) food for Diljit who besides teasing lends a helping hand as well. Also, the newly released song from the movie 'Jodi Teri Meri' can be heard playing in the backdrop. From chopping, beating an egg, and preparing to serve scrambled eggs, it displays all. Furthermore, the viral video excites their fans even more for their upcoming film Jodi.
View this post on Instagram
To spice it up further, their fans penned some hilarious comments. One user wrote, "@diljitdosanjh Masterchef Da Ki Mukabla (means No body can beat Diljit in cooking)". While another user mentioned "Nimmo Kollon Te Gande Ni Vadde Jaan Daye" (means Nimmo is not able to peel off onions) @diljitdosanjh Ultra pro max in kitchen bruh". Another user wrote, " Asal Vich Bann Janni Jodi Lagda (means they may become a real couple".
Interestingly, Diljit Dosanjh then shared a BTS video clip. In the video, Nimrat blames the size of tomatoes, onions, and a knife for her not-so-good cooking performance. The singer captioned it as "kal aali reel di explanation aa gyi hai friends please note, mera kasoor nhi aa".  (Here's the explanation for yesterday's reel, there is not my fault)
Jodi Trailer
The film Jodi is high on music and peppered with a gorgeous on-screen love story of Diljit and Nimrat who are sharing the silver screen for the first time. Moreover, Amberdeep Singh is the director and writer of the movie. While Daljit Thind and Karaj Gill are the producers. Thus, Thind Motion Films and Rhythm Boyz Entertainment present it in collaboration. The film will release on 5 May 2023.
Leave a Comment