The poster of upcoming animated Punjabi religious film 'Dastaan-E-Miri Piri' released
By Punjabi Pollywood Team | September 14, 2018
The greatness, history, and sacrifices of the Sikh religion got so much of respect and affection by the audience with the film Chaar Sahibzade. This year one more 3D animated Punjabi religious film 'Dastaan-E-Miri Piri' is going to release. This Punjabi film 'Dastaan-E-Miri Piri' will unfold the chapters of the Sikh history and will convey the history and teachings of 'Guru Hargobind Sahib Ji' to the people through animation.
Dastaan E Miri Piri movie by Chhattampeer Productions will portray every subtle aspect of the history, thus the present generation will learn a lot from it. It will be an interesting movie based on the marvelous history as it will explain the principle of 'Miri Piri' and its importance. Such movies can play a significant role for the audience as today's generation is lacking in reading these days. Thus, this two-hour long movie 'Dastaan-E-Miri Piri' should be a must watch for all Punjabi and Sikh families.
The Poster of this animated Punjabi movie was released during an occasion in Amritsar by Avtar Singh Sur Singh Wale, where other religious personalities and members of the Shiromani Gurdwara Parbandhak Committee were also present. In the creation of this Punjabi film, experts from Bollywood and Hollywood have been involved for the perfect animations. This animated Punjabi religious film "Dastaan E Miri Piri" is directed by Vinod Linjwal from Mumbai and producers are Dhiraj, Gurdeep Singh, Major Singh, and Navdeep Kaur Gill. The vocals to the title song of this movie have been given by the famous Bollywood singer Kalaash Kher. Hopefully, this production will bring the glorious history of the Sikh religion to the people of the state and nation successfully and people will also love this movie.
Dastaan E Miri Piri Poster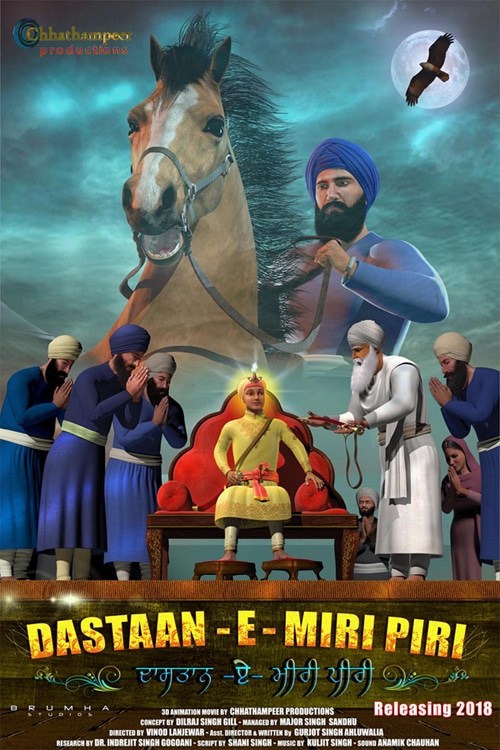 Leave a Comment