Daaka Movie Review: Passionate Love Story Coupled with Exciting Adventure
By Sonia Khanna | November 2, 2019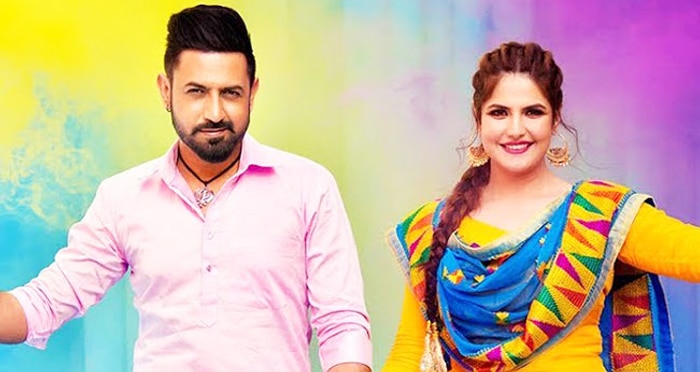 Cast: Gippy Grewal, Zareen Khan, Rana Ranbir, Shehnaaz Gill
Director: Baljit Singh Deo
The much-awaited Punjabi movie Daaka hits the silver screen. Actor Gippy Grewal alongside gorgeous Zareen Khan make a comeback and garner huge appreciation as an on-screen duo. Also, the movie as promised is different from the otherwise league of Punjabi movies which majorly comprises comedies. The Daaka movie offers everything from action, suspense, thriller, comedy and finally romance. Furthermore, the Gippy Grewal fans are excited and they have the right reasons to feel so.  Here is our movie review that will assist you book your seats for the flick!
Story Scan:
The story revolves around Shinda (Gippy Grewal) who can go any measures to win his love Lali (Zareen Khan). Shinda hails from a poor family, thus cannot make an impression on Lali's father. His desire to win her hand in marriage, prompting Shinda to rob a bank. His partner in crime is Balli (Rana Ranbir) who is struggling with his own kind of problems. So, this is why Daaka, the bank robbery begins.
The plan to loot the bank is sturdy and foolproof. Its execution is as impressive and comical as expected. In fact, the robbery scene is among the funniest parts in the film. Without giving further detail, we would close it on the entry of local goon Hobby Dhaliwal (Sukhchain Singh).
Performance Pitch:
Gippy Grewal and Rana Ranbir definitely outshine throughout the movie. Their undisputed bond of friendship between the two and they never-ending ordeals make it fascinating for the viewers to watch. Next, Gippy and Zareen's chemistry are highly admiring. The couple looks lovely on-screen. Zareen has now successfully made a mark in the Punjabi Cinema. She is going strong with each successive movie.
Rest, Mukul Dev as an inspector has done complete justice to his role. Hobby Dhaliwal is really impressive as a goon and his negative character portrayal is quite endearing.
Music & Presentation:
As we already know that it is the first Punjabi Movie to associate with T-Series, we surely agree it deserves the collaboration. The music displayed is pleasant to hear. The few recreated songs of old blockbusters are presented well and are pretty enjoyable too. The flick is a perfect dose of entertainment with the right set of ingredients, viz. Comedy punches, turn of events, and a love story. It offers a lot and keeps viewers hooked throughout the movie. The screenplay and direction are smooth and logical. In addition to, the flick has displayed the incessant technical strength of Punjabi Cinema.
Vital Verdict:
If you loved Gippy Grewal and Zareen Khan in Jatt James Bond, this movie is for you. Daaka is a good narrated movie with the right set of components. It symbolises a new touchstone in the Punjabi Movie Industry. A perfect entertainer!
Leave a Comment