Actress Preeto Sawhney will rock with Bhojpuri in movie 'Aate Di Chidi'
By Punjabi Pollywood Team | October 12, 2018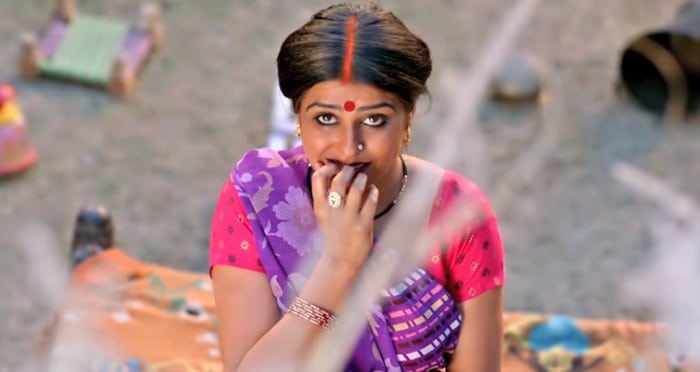 The most awaited Punjabi movie of this year 'Aate Di Chidi' is in sensation on regular basis because of its very talented star-cast. You might be familiar with many of the faces from this movie as you would have seen them in many of the other Punjabi movies, but now one name will definitely surprise you, which is of 'Preeto Sawhney'. In the trailer of movie Aate Di Chidi, the lady who is playing the character of singer and actor Karamjeet Anmol's wife is a Punjabi girl Preeto Sawhney, though we are sure that her perfect Bhojpuri ascent must have left you with the thought that the makers of "Aate Di Chidi" have included one Bhojpuri girl, which is not true at all!
Preeto Sawhney is a very much dedicated and talented actress; her level of aspiration is taking her to the various heights of experiments and a variety of roles. After the movie Aate Di Chidi, she will be communicating in Haryanvi language in her next movie 'Salute'. One another movie by Harry Bhatti will present her in the character of a teacher who will speak Sanskrit very purely. Preeto Sawhney is also in Nav Bajwa's helmed movie Kitti Party, in which she is playing the character of a Thai girl with a totally different language and culture. From this, you can have the idea about Preeto Sawhney's potential and wish to play the variety.
Aate Di Chidi Movie Trailer

Also got one offer of a Bhojpuri film
During the promotional trips of movie Aate Di Chidi, actress Preeto Sawhney revealed that her hard work and zeal to present different characters had taken her to an offer of a Bhojpuri movie. This all happened just because of her work in the trailer of movie 'Aate Di Chidi'. Anyhow, she had kept that in secret very intelligently, that if she is going to be the part of that movie or not.
Leave a Comment