Ranjiv Singla Production's New Project Mahi Mera Nikka Jeha Hits the Floors
By Gurpreet Kaur | October 12, 2021
With every new day, a new Punjabi movie is hitting OTT or theatres. Indeed, the industry is on track to recovery post-Covid times. So, today we're here to talk about the new Punjabi movie that has started its shooting. Ranjiv Singla Productions' reveals the mahurat shot of its upcoming film Mahi Mera Nikka Jeha. Moreover, the production house is already popular for hits like Laavaan Phere (2018), Mindo Taseeldarni (2019), Kuriyan Jawan Baapu Preshaan (2021) and Haterz . Also, this marks the third movie of the year for the Ranjiv Singla Production house.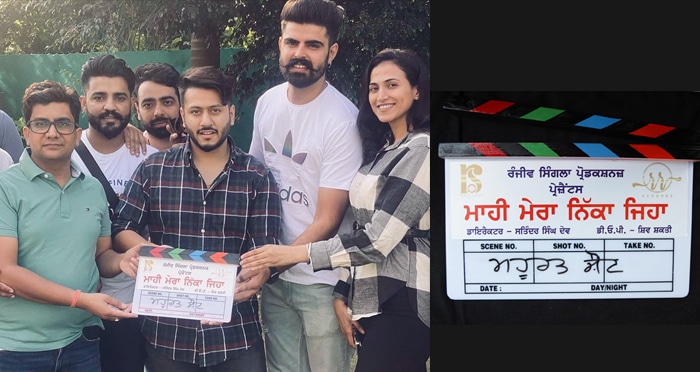 Next, Satinder Singh Dev serves as the movie's director. Interestingly, he has worked as an assistant director and actor in movies such as Ikk Hor Jannat, Chitti Mael, Singh Is Bliing, and much more. Moreover, Jagdev  Sekhon writes the story. Aman Sidhu does the screenplay while Bhindi Tolawal pens the dialogues.
Furthermore, the Punjabi film features Pukhraj Bhalla and Hashneen Chauhan as the lead pair. The son of comedian Jaswinder Bhalla, Pukhraj was last seen in the web series Yaar Jigree Kasooti Degree. While Ms. Chauhan previous outing was Tunka Tunka.
Besides them, Karamvir Deol, Seema Kaushal, Anita Devgan, Jaswinder Bhalla, Ashok Pathak, Ekta Gulati Khera, Honey Mattu, Sukhwinder Chahal and others play the supporting cast. Definitely, the list of talented cast hints at the comic-drama flavor of the movie.
Leave a Comment