Ravneet Singh's Jatt vs Ielts Punjabi Movie Official Trailer Out
By Harpreet Singh | May 24, 2018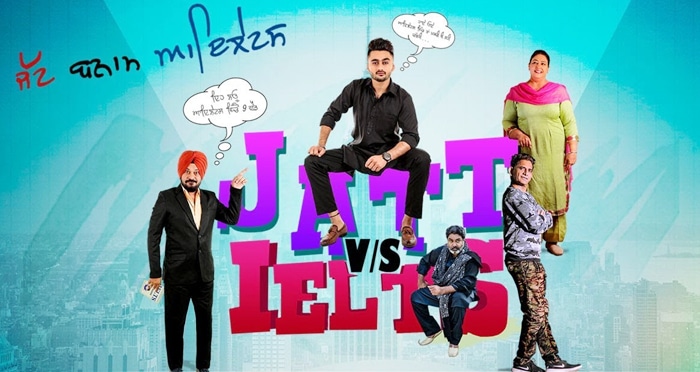 Ravneet Singh is all set for his debut in 'Jatt vs Ilets'. Ravneet Singh Movie revolves around the present scenario of Punjab in which youth is going abroad and is in the race of taking bands by saying 'Rabba ielts pass krwade'. This movie is a satire and portrays life of a boy who wants to go to abroad and how he manages to reach Canada. The main focus is on Jatt, Ielts and the trend of going abroad.
Ravneet Singh who started his career with Canteeni mandeer as an anchor then moved to singing and got great appreciation by his fans and now he is coming up with his movie "Jatt vs ielts " to tickle your funny bones. Ravneet is playing a character of JASWINDER SINGH who is dreaming of going to Canada and joined ielts classes.
The official Jatt vs Ielts trailer is launched. Jatt vs ielts will feature best combination of comedians-Gurpreet Ghuggi and khyali. Jatt vs ielts star cast features Khushi Malhotra, Deep Sehgal, Hobby Dhaliwal ,Anita Devgan , Sukhbir Bath, Naveen Walia , Mandeep Ghai, Jaswant Mintu Directed by Devi Dutt . Ravneet Singh and khyali are playing characters of student whereas Gurpreet Ghuggi plays the character of a teacher who doesn't even know the full form of IELTS. Anita Devgan and Hobby Dhaliwal will be seen as Jaswinder Singh's mother and father who are doing everything to send their child to abroad.
Perfect comedy timings in Jatt vs Ielts trailer will make you laugh. Ravneet Singh new movie seems a houseful comedy drama. "Fans are eagerly waiting for 'Jatt vs Ielts' movie and songs. 'Jatt vs Ielts' an upcoming Punjabi movie scheduled to be released on 22 June, 2018 under Black roz Entertainment. Stay tuned for Jatt vs Ielts reviews.
Leave a Comment