Rabb Da Radio Review
By Harpreet Singh | March 30, 2017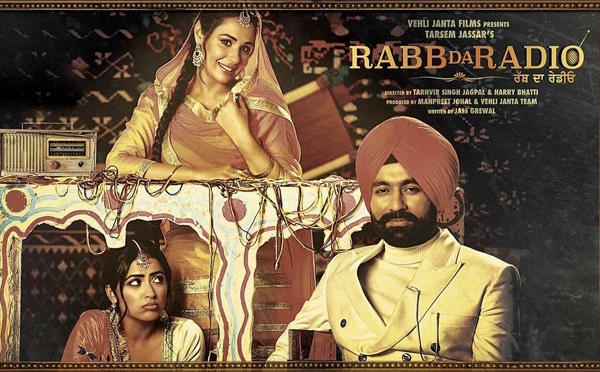 Film – Rabb Da Radio
Actors/cast – Tarsem Jassar, Mandy Takhar, Simi Chahal
Director – Harry Bhatti, Tarnvir Singh Jagpal
Written – Jass Grewal
Genre – Romance Family Drama
Release Date – 31st March, 2017
Punjabi Movie Rabb Da Radio Review and Star Cast
Tarsem Jassar who plays the hero in the film "Rabb Da Radio" with Mandy Takhar and Simi Chahal as lead roles is a well-known Punjabi lyricist, singer and producer, who puts his first step as actor in Punjabi cinema by this film. Tarsem Jassar has well played his role in singing and writing but now the thing is will he be able to shape his acting in Punjabi cinema or not.
About Trailer
The trailer of the film ''Rabb Da Radio" depicts the basic love story of 90's period and is followed by some family drama. The story starts with a village girl (Simi Chahal) who is waiting for his brother and then a boy (Tarsem Jassar) comes in the village and she develops liking for him. Tarsem Jassar plays a role of a boy who is very kind hearted and is willingly there to help the people of the village. The trailer shows how the movie takes emotion turn. The twist or the suspense part lies in the character of a girl played by Mandy Takhar.
Star Cast
The most awaited Punjabi movie "Rabb Da Radio" includes beautiful cast but the acting part if we look in the trailer is not that good. It lacks the face expression and also it is the first movie of Tarsem Jassar. Simi Chahal acts well whereas Mandy Takhar's part not much is highlighted in the trailer.
Songs
The songs even the lyrics are beautiful in this movie. The music is given by Sharry Mann, Nick Dhammu.
Raab Da Radio Box office Collection Coming Soon
For further reviews of the Punjabi movie Rabb Da Radio stay tuned with us..!!
Leave a Comment