Puaada Review: Family Drama that Leaves you Wanting More
By Punjabi Pollywood Team | August 14, 2021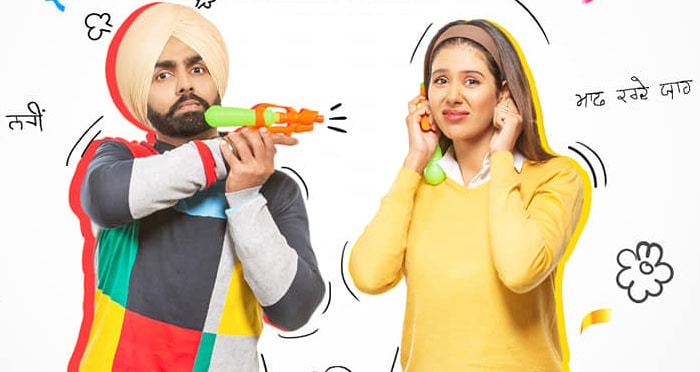 Punjabi movie Puaada, featuring Ammy Virk and Sonam Bajwa, finally hits the silver screen. Also, debutant Rupinder Chahal directs the situational comedy-drama. Furthermore, as the name suggests, Puaada (literal meaning problem) displays a conflict between two families when their children fall in love with each other.
Read Puaada Review:
Story Scan
The plot revolves around Jaggi (Ammy Virk) and Rounak (Sonam). Jaggi is a farmer while Rounak is an MBA-passed girl and her father belongs to the Air Force department. Hailing from contrasting lifestyles and backgrounds, they fall in love with each other. Rounak's father looks for a perfect match for his daughter, thus Jaggi tries his best to impress him. However, the situation goes topsy-turvy when their families meet and encounter one another.
Performance Pitch
As expected, the star duo Ammy and Sonam made their characters felt on the screen. Ammy as Jaggi made a decent performance. His acting, expressions, and actions are just too good. However, his dialogue delivery is quite paced which may make it difficult to understand for a new viewer. On the other hand, Sonam as Rounak's character lacks sheen. While delivering her dialogues, she hops on to the character of stubborn Babbu Bains from Ardab Mutiyaran. Instead, her suits or attires are the only attraction, the rest of her character could be better. Besides them, the supporting cast Anita Devgan, Hardeep Gill, Balwinder Bullet, Gurpreet Bhangu, and others put in their effective contribution.
Music, Direction & Presentation
Puaada songs are both catchy and foot-tapping. In addition, the amazing background score is another high for the movie. Furthermore, the well-written dialogues by Rakesh Dhawan take the audience on a laughter riot. The story of the movie is although new but way beyond today's reality. Therefore, it is just for humor and entertainment. Some locations of the film seem old-age and not connecting with actual situations. Next, credit goes to Anshul Chobey's brilliant cinematography. Lastly, best wishes to Rupinder Chahal's direction for putting everything in a place impeccably.
Final Word
Puaada surely proves why the Punjabi film industry is widely popular for comedy movies. Therefore, on the laughter front, it gets full marks. However, about the technical front, there are some scenes or parts that are a little stretched. Also, the climax is quite overstated. On a whole, it is a complete family entertainer, hilarious comedy-drama that will leave you wanting more!
Leave a Comment