Prriet Kamal Dons Pure Punjabi Avatar for Fer Mamlaa Gadbad Hai
By Sonia Khanna | April 4, 2021
Punjabi actress Prriet Kamal, known for her appearance in 'Saab Bahadar', and next is ready to entice all with 'Fer Mamlaa Gadbad Hai', has an exclusive interview with Punjabi Pollywood, recently. During the session, she revealed a number of things she adopted to play the role of a typical Punjabi lady.
Born in Delhi and studied in England & Mumbai, Prreit has to prepare a lot to don an authentic Punjabi lady. She seeks advice from her friends and lives in a Punjabi village to know the people closely. She observed their body language and clothing styles. What is more, she gained few kilos to look like a chubby & gorgeous Punjabi Mutiyar.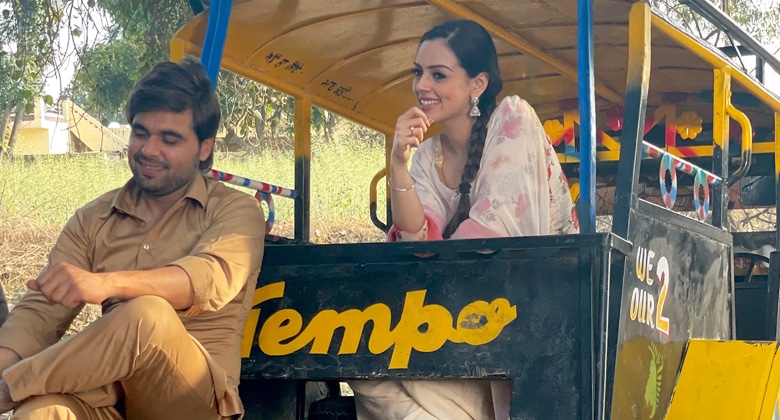 She told that on her strong suggestion, the director Sagar S. Sharma kept her character name as Preet only. Furthermore, she believes to establish herself as a role or character that clicks with the viewers or connects instantly. Likewise, the popular character of Geet from Jab We Met.
Overall, she learned Punjabi about cultural ethics and heritage.  Moreover, she rolled her experience of been staying up in a Punjabi village. The Marjaney actress appreciates the warm and welcoming Punjabi people. Lastly, on being asked about her future plans or taking up web series projects, she nodded positively. The actress wants to make it big in the entertainment industry, portraying her talent and skills. Henceforth, she is open to web series streaming strong on OTTs.
Talking about the movie, besides her, Ninja, BN Sharma, Jaswinder Bhalla, and Upesh Jangwal will be seen playing a significant role. The poster hinting a plot involving money and two-faced people, while the title indicating a lot of humor and entertainment. Kumar Ajay pens down the film. Ohri Productions, Brimming Vision Films, and Royal Punjab Films serve as the production houses.  The makers will announce the release date soon.
Leave a Comment