Poster of upcoming Punjabi Biopic 'Dakuaan Da Munda' is out now
By Harpreet Singh | March 6, 2018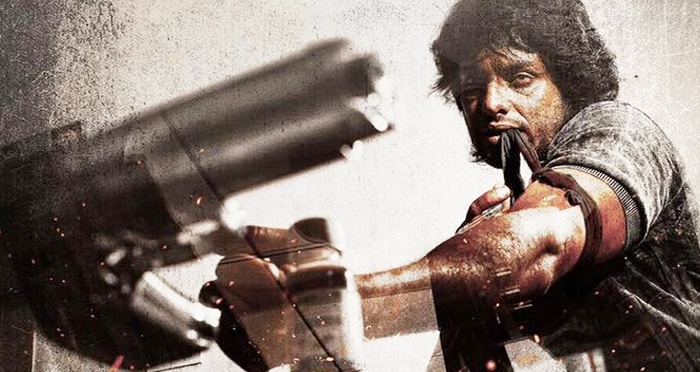 The poster of one of the most awaited movies of this year 'Dakkuan Da Munda' had been released on Monday. The action king of Punjabi cinema Dev Kharoud, who is playing the lead character in this film, shared the poster of this upcoming Punjabi biopic on his social media account.  It was also the first day of the shoot of the movie, Kharoud mentioned in his post.
With the grand-success of his previous back to back two bio-pics, "Rupinder Gandhi The Gangster" And "Rupinder Gandhi 2", based on the life of a student leader and young politician 'Rupinder Gandhi', Dev Kharoud is looking confident about this another project based on the real-life story. In this Punjabi film, versatile Jagjeet Sandhu and gorgeous Pooja Varma are going to share the screen along with a team of astounding talented actors and crew like Hardeep Gill, Sukhdeep Sukh, Anita Meet, Lucky Dhaliwal and Kuljinder Sidhu.
If we talk about the 'Dakkuan Da Munda', then it is based on a Punjabi novel with real life-story, penned by a former Kabaddi player Mintu Gursariya from Sri Muktsar Sahib's village Gurusar Jodha. This novel is writer's story of self-realization that how after a period of 17 years of gang-war and drugs, he chose to surrender everything and turning another leaf and chose to pen his story. Resolute by the hatred and criticism coming in his way, had made him write a book, then he wrote a Punjabi novel 'Dakkuan Da Munda' which means Bandits' son in English. The book inspired an emotional response with the Punjabi youth and the previously mentioned include film will give this story a genuine characterization.
Dakkuan Da Munda's poster has been mentioned with the releasing date as well, this upcoming Punjabi movie is going to be released on 7th September 2018.  The producers of the movie are Ravneet Kaur Chahal and Rajesh Kumar, while Mandeep Benipal is wearing the director's hat. Young blood's favorite lyricists Veet Baljeet and Gill Raunta have written the songs of this Punjabi movie.
Leave a Comment