Review: Nikka Zaildar 2 movie recreates 1970 romance on silver screen
By Harpreet Singh | September 22, 2017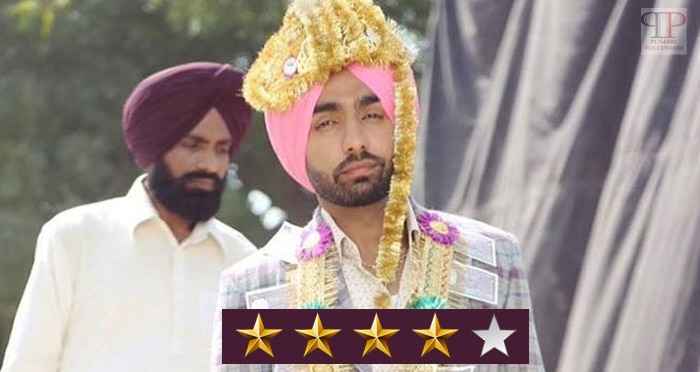 Nikka Zaildar 2 starring Ammy Virk, Sonam Bajwa & Wamiqa Gabbi has been released this Friday and as per audience review, it has been going great. From story to its direction, Nikka Zaildar 2 is totally different from the first part of the movie. Simerjit Singh (director) although will totally make you relate to the first part of the movie Nikka Zaildar. Be it acting, music, direction or story, Ammy Virk & Sonam Bajwa starrer Nikka Zaildar 2 have it all under one movie.
What it's all about (Story Overview)
From 2016 in part 1 of Nikka Zaildar, the sequel has moved to year 1970. Even the story of Nikka Zaildar 2 is very much different from the first one. New Punjabi movie opens with the marriage scene of Nikka (Ammy Virk) and Roop Kaur (Sonam Bajwa). But after few days of their marriage, Nikka confesses to Roop that he is in love with a girl (Wamiqa Gabbi), who is a teacher in the village school. And ask his wife to convince his family for his second marriage. Is it possible for a wife to convince her in-laws for second marriage of her husband? Will Roop Kaur be able to do so for Nikka? Find out the answers at the end of Nikka Zaildar 2.
What's new in Nikka Zaildar 2?
Nikka Zaildar 2 has been filled with many plus points that makes the movie a must watch one. It has showed the relation of mother in law and daughter in law very well. The movie has also showcased the Punjabi culture at its best. Dialogues of each & every character of the Punjabi movie Nikka Zaildar 2 has been framed well as per their role. Apart from Ammy Virk & Sonam Bajwa's married life romance, the entry of Wamiqa Gabbi in Nikka's life is the plus point of the movie. From background music to its songs or the screenplay, everything in Nikka Zaildar 2 is just perfect.
What's to do (Reason to watch)
We just can't give you one reason to watch the movie because its just not be missed. From old Punjabi rituals to the 1970s marriage, Nikka Zaildar 2 will surely take you to that era of Punjab. Another reason will be to watch out for the perfect Jodi of Punjabi cinema Ammy Virk & Sonam Bajwa for the very another time on the silver screen.
So what are you waiting for book your tickets now for the weekend show of Nikka Zaildar 2 at your nearby theatres before it get houseful.
Star: 4 out of 5
Leave a Comment