Nadhoo Khan Review : Unfamed Story of Nadhoo Kha'n Embraced in Love !
By Punjabi Pollywood Team | April 27, 2019
Set in a rural background of early 1980's, the movie Nadhoo Khan is a mixture of comedy , romance, motivation and wrestling worth a family watch. It has been a great time such a movie is released. Jodi of Wamiqa Gabbi and Harish Verma is looking fabulous and very cute. They are seen first time on cinematic front.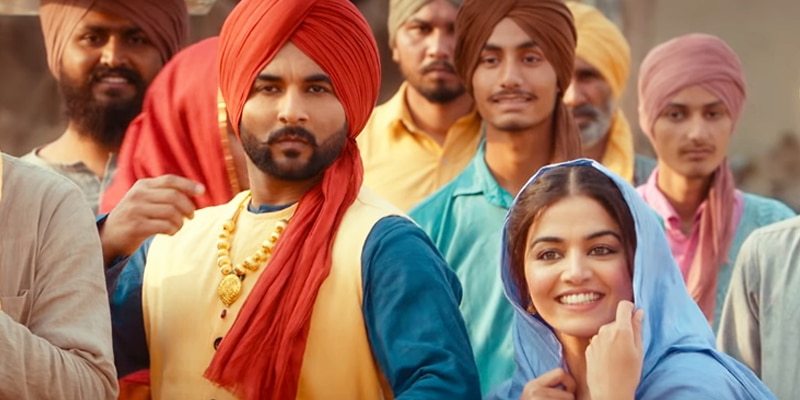 Story
Now the story line everyone awaits for is a old story of a person Nadhoo Kha'n who has faced humiliation in his past . Nadhoo Khan's son Chanan is a carefree boy unaware of his father's ancestry. When Chanan realizes the fact that his father was a renowned wrestler chanan struggles to bring back the legacy with respect. Under his grandfather's guidance chanan is not allowed to be involved in any matter related to girls (Wamiqa Gabbi) . But the chanan has his feelings for a girl and irony is that he is been pitted by her brother in wrestling match. Suspense here is will he fight for his father's legacy or his love or will he get a solution to both problems.
Acting
Harish Verma as Chanan in the movie is son of Nadhoo Khan who plays main role in the movie. Actor Harish Verma has played role very energetically and his dialog delivery timing is worth watch. Actress Wamiqa Gabbi who has been a new face to punjabi industry and for sure a very glowing and pretty face. Her beauty and simplicity in movie specially as a shy and sweet punjabi girl. Her expressions and chemistry with Harish Verma is really appealing the audience . Another main acting skills are shown by B. N Sharma and Gurpreet Bhangu who were great and successful again to entertain audience. Their harmless jokes and actions made a happy go environment in theatre. A crucial role is played by Nadhoo Kha'n (Hobby Dhaliwal) the main character of movie. His role is of a father who tries to protect his son from humiliation he has faced but at same time a cool personality entertaining everyone.
Direction
The direction is done in the rural area and plays important role in movie. The audience is taken back to the 80's rural punjab in a manner that even a one skip cannot be afforded. The movie direction engrosses audience. Perfect timings of punches and background makes it a blast of laughter. Director Imran Sheikh has made beautiful efforts in presenting the movie. Imran Sheikh's hit movie Big Daddy -world's best father was a effort put very well but this time its even more.
Music
Songs of the movie were a great success before the movie release. Beautifully written songs sung by talented singers supported story line. The song Multan sung by Mannat Noor leaves audience murmuring lyrics . Songs are perfect to timings and are expressing movie in its own way. A romantic song Sharbati Akhiyan sung by Gurnam Bhullar which soothes heart. Dil Diya Gallan in voice of Hardeep Singh is a way to express one's feelings to your beloved. A dancing number Gabru is included in movie which brings feet to move sung by Ninja and Gurlez Akhtar
Leave a Comment