Muklawa Trailer: Watch Ammy Virk's Comical Struggle To Meet Wife After Marriage In World Of Muklawa
By Punjabi Pollywood Team | April 13, 2019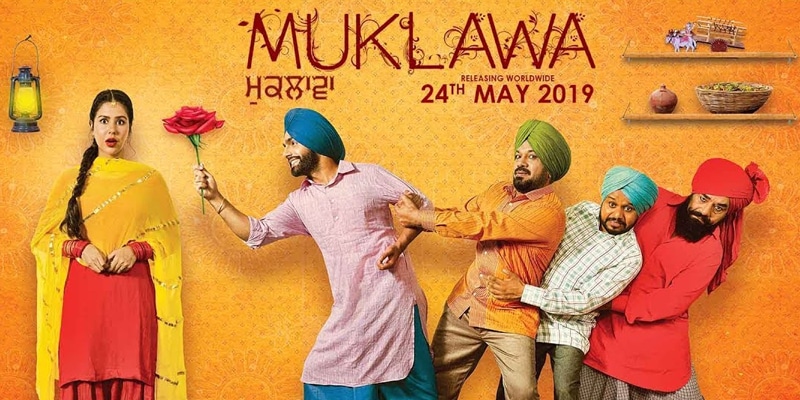 The Ammy Virk and Sonam Bajwa starrer movie Muklawa trailer has been released on YouTube under the banner of White Hill Studios. It is a comical tragedy with a groom who struggles to meet his bride after marriage. Muklawa is a tradition in which bride after marriage visits her maternal house and is sent back to Groom's house with lots of gifts.
Ammy Virk and Sonam Bajwa starrer movie has this stupendous jodi once again after nikka jailder on screen. The jodi is in a scene set in punjab around a rural wedding and its one of the custom of muklawa. This movie is a full pack of laughter and comical scenes around the husband wanting to eagerly see his wife after marriage at time of muklawa . The giggles and laughter is made more loud supported by the co star team in the movie like B. N. Sharma, Gurpreet Ghuggi, Karamjit Anmol, Sarbjit Cheema and Nirmal Rishi.
The trailer starts with a scene where Ammy Virk as chinda is thrown out of his wedding car as his muklawa is after an year of marriage. It shows the efforts and desperate wait of chinda to meet his wife trying all tactics and strategies he can though sympathetic but really funny entertaining at the very beginning . Trailer is filled with pack full of comedian punches and expressions.
The new production house by Simerjit Singh has surely something interesting coming out as wedding based comedy in punjabi industry has been running from a long time. Gunbir Sing Sidhu and Manmord Singh Sidhu are producing this movie which is soon to release on 24th May 2019.
Leave a Comment