MH One to come up with new Comedy show "Comedy House" 2018
By Punjabi Pollywood Team | July 8, 2018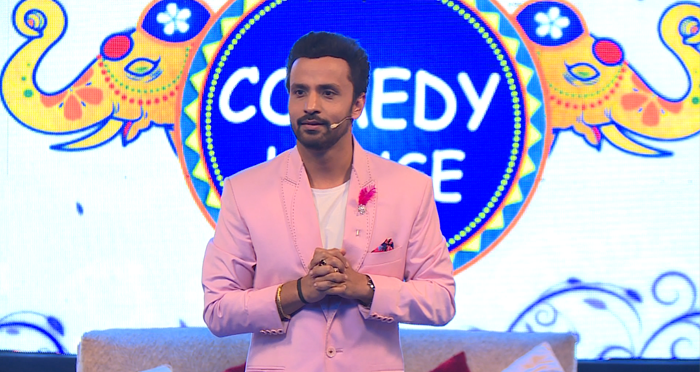 "COMEDY HOUSE" is a studio based interview show that is full of Masti & Dhamal. Full of Surprises, Pranks, fun and ofcourse loads of comedy. Host of the show is the extremely popular standup comedian 'Rajiv Thakur' who is an accomplished actor and anchor in pollywood as well as Bollywood industry. He is the pride of Amritsar city. The best and most popular artists from Punjab and the latest movie release teams are being invited to be part of the show. The 1 hour long show will be telecast every Thursday at 8:00 PM on Channel MH ONE.
The star cast includes Rajiv Thakur, Jatinder Suri, Gurtej Mann, Neha, Shagun Jaswal and Vikas high lights of each artist are given below. Rajiv thakur remarked with his words that, "Punjabi language and Punjabi culture lends it self very well to comedy and most of the leading comedians in Bollywood and national television are from the Punjab region. It's high time that a show of this nature and stature is being launched on channel MH ONE. I am really thankful to this channel for having given me the break on television along with Kapil Sharma, Chandan Prabhakar, Jaswant Singh, Balraj and Jatinder Suri in their popular show "Hasde Hasande Ravo" way back in the year 2006. MH ONE has changed my life completely with fame, popularity, acknowledgement".
Rajiv Thakur – started his television career with Reality Show Hasde Hasande Ravo on MH ONE and since then has never looked back on comedy. The other shows he has participated in are Comedy Circus all seasons, Comedy Nights with Kapil, Sajan Re Jooth Mat Bolo, Comedy Dangal. He has also been part of popular Pollywood films – Jindua, Lahoriye , Thug Life, and Dangar Doctor and has several other projects coming up.
Domino's Comedy House has an expert team of writers Manoj Sabharwal assisted by Charu Gupta. Manoj's association with MH ONE once again goes back to 2006 and he has been associated with many projects for the channel including Titu Ka Dhaba. In his early days he worked with DAV College Jalandhar as a professional skit writer. He has contributed as a writer to many popular comedy shows on National Television including – Comedy Circus, Comedy Nights with Kapil, Comedy Classes, Comedy Nights Bachao, Comedy Nights Live, Chote Miyyan Dhakad, Comedy ka Dangal, Comedy High School and Entertainment ki Raat. He has a long list of Punjabi movies where he has contributed as a dialogue writer these are : Mundiyan To Bach Ke Rahin, Double the Trouble, Canada Di flight, Mukhtiyar Chaddha, Titu MBA and Saturday Night.
Leave a Comment