Mastaney Movie Review: A Well-Explained (Untold) Saga of Sikhism Powered by Ardaas
By Harpreet Singh | August 26, 2023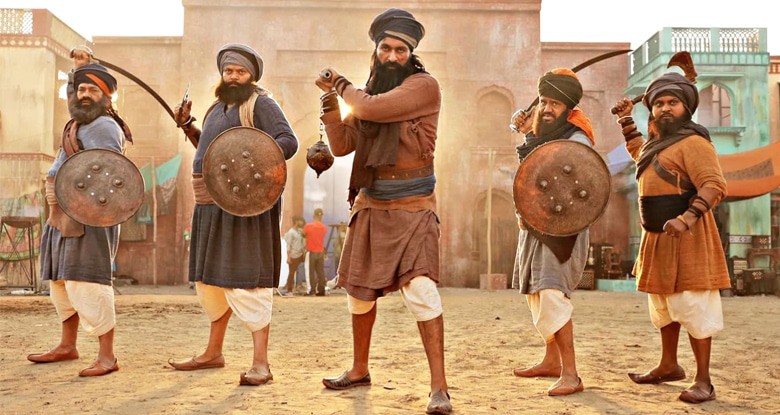 The much-hyped Punjabi movie Mastaney has hit the big screens today. The historic saga is directed by Sharan Art. Furthermore, it features Tarsem Jassar, Simi Chahal, Gurpreet Ghuggi, Karamjit Anmol, Honey Mattu, Baninder Bunny, Rahul Dev, and several others. Next, the film rolls out the legendary chronicle displaying the valor of Sikhs. Read Mastaney movie review to know more about it.
Story Scan
Set in 1739 in Lahore, the plot demonstrates the Sikh history legends of Iranian ruler Nadar Shah (Rahul Dev) who laid siege upon Delhi. During his reign, his army kept on looting the wealth of others, trafficking women, and strokes torture on people. One fine day, when the army was returning to their kingdom after taking away their belongings, they were attacked. As soon as Nadar Shah got the news, he affirmed that this assault must be made by the subordinate ruler, the Subedar of the province.
So, he heads to him and finds that some group of Sikhs combating his army's way and taking away the looted stuff. He then commands Zakaria Khan (Avtar Gill) to present Sikhs before him. However, Zakaria fails to produce them. He comes up with a plan and hires an assorted crew of five men to camouflage the Sikhs instead. Thus, an odd group of people including Bashir (Karamjit Anmol), Feena (Baninder Bunny), Zulfi (Honey Mattu), Qalandar (Gurpreet Ghuggi), and Zahoor (Tarsem Jassar) comes into being. The group gets training to perform in front of Shah, however, things go haywire and they fall into a battle with Nadar Shah. In the middle of the mess, a love story ensues between Zahoor (Tarsem) and Noor (Simi Chahal).
Performance Pitch
The overall performances deserve a big round of applause and the narrative makes an attempt to harmonize profound moments with effective, precisely channeled through the personas of Bashir, Zulfi, and Feena. However, it's Gurpreet Ghuggi who truly stands out. Known for his comedic flair, Ghuggi delivers an enthralling and intricately layered portrayal as Qalandar, the mystic who communicates in verses and becomes the cohesive glue of this brotherly group.
Dialogues & Direction
The director Sharan Art's skill in balancing various elements is evident, as the film seamlessly transitions between moments of hilarity, poignant emotions, and heartwarming scenes. The screenplay is a true instance of perfection. A well-paced, making the nearly three-hour runtime breeze by. The dialogues by Harnav Bir Singh are hard-hitting and impelling. Moreover, the movie boasts intricate production design, skillful VFX, and elaborate costumes. It thus results in a tapestry of opulent visuals that demonstrate 18th-century Lahore in all its glory.
Meticulously fashioned palaces, winding alleys, and the urban panorama come together to weave an authentic atmosphere. Cinematographer Jaype Singh skillfully captures the cityscape from various perspectives, enabling viewers to grasp its vastness and magnificence.
Music
The musical score, notably the lively tracks Shehzada and Masti Masti adds to the mesmerizing factor. Daler Mehndi's voice blends beautifully with the backdrop score. The authentic background music flashes the vibe from the movie Kantara.
Vital Verdict
Mastaney is a celebratory ode to Punjab's historic moment, exemplified by captivating performances, fascinating music, and a powerful story. It rolls out a genuine portrayal of the region's culture. Whether you're a fan of Punjabi cinema or simply seeking an uplifting and culturally immersive experience, Mastaney is a film that will leave you with pride on your face and warmth in your heart.
Public Review
Leave a Comment