Movie Review: Yamlok comedy in 'Mar Gaye Oye Loko' successfully rocked in Cinema Halls
By Punjabi Pollywood Team | August 31, 2018
Mar Gaye Oye Loko Punjabi Movie Review: Newly released Punjabi movie "Mar Gaye Oye Loko" is the new benchmark in the Punjabi cinema as it has successfully introduced fictional story & comedy at best in this regional cinema. Huge crowd seen at the movie theatres in the state assures this movie to be one of the major hits of this year. Now, coming to the movie review of this newly released Punjabi movie Mar Gaye Oye Loko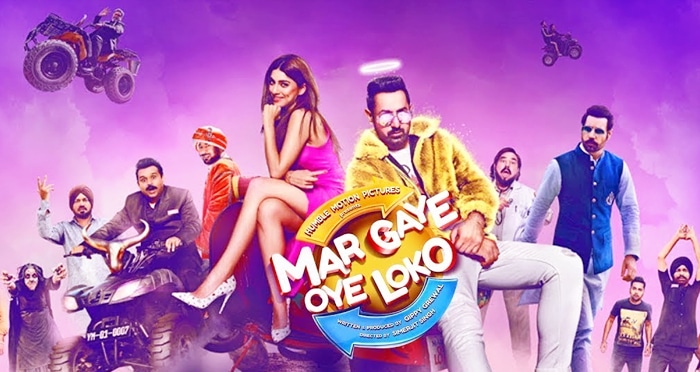 Story
Friday released new Punjabi movie 'Mar Gaye Oye Loko' is a perfect comedy and drama based movie which is a collection of a lot of assumptions as well. The movie revolves around a simple boy, 'Gippy Grewal' as Tittu, and his wish to marry a girl of his dreams debutant 'Sapna Pabbi' as Simran. But Simran is interested in a local gangster Binnu Dhillon as Gill Bai. In between this, a lot of complications happen as Gangster Gill Bai is killed by his enemy Sidhu. Here comes a Yamlok's confusion because Hakalchu 'Karamjit Anmol' makes a blunder and takes the wrong person Tittu along with him. Hence, the story goes to Yamlok where Karamraj as 'Jaswinder Bhalla' is waiting. A lot of drama and complex comedy makes the audience connecting with the audience.
Direction
The sincere director Punjabi entertainment industry 'Simerjeet Singh' always tries to present new ideas and concept, which can be observed from the names of hit movies given by him including 'Angrej', 'Nikka Zaildar' 1 and 2, and 'Subedar Joginder Singh' etc. In the same sequence, he cames out with this new form of fictional comedy in which he made assure that colorful sets, casting & makeup etc everything should be up to the mark as in comparison with the Bollywood movies as well. Also, the direction of Simerjeet could have successfully taken the movie to a perfect climax.
Acting and Dialogue
The special feature of this movie is that audience feels the full involvement of the whole star cast of "Mar Gaye Oye Loko". The director and star cast had assured that the design of script & screenplay is also applaudable and the full concept of the movie is clear. For making the environment specific for Yamlok, some of the dialogues are kept in Hindi, with a little Punjabi ascent those makes the audience crazy.
Music
Music is one of the strongest parts of this movie as the team behind the lyrics, compositions, and the vocal part of the songs of this new 'Punjabi movie Mar Gaye Oye Loko' is a combination of young and experienced artists of Punjabi entertainment industry. The songs by Sidhu Moose Wala, Malkit Singh, Gippy Grewal, Karamjit Anmol and Rahat Fateh Ali Khan getting excellent support and love by the audience.
Leave a Comment