Mar Gaye Oye Loko will introduce comedy from Yamlok in Punjabi Cinema
By Punjabi Pollywood Team | August 25, 2018
This year's most awaited Punjabi comedy movie Mar Gaye Oye Loko is a first movie of its kind in Punjabi cinema. The movie is all about fun in a fictional form. The story of Movie Mar Gaye Oye Loko starring Gippy Grewal and Binnu Dhillon is all about a confusion which had been created at Yamlok. In which Actor-Singer 'Karamjit Anmol' is playing the character of Yamdoot. Yamdoot Karamjeet Anmol wrongly took the life of Gippy Grewal although he was supposed to kill Binnu Dhillon. Because of this a lot of humorous suspense is created at both places Earth and Yamlok.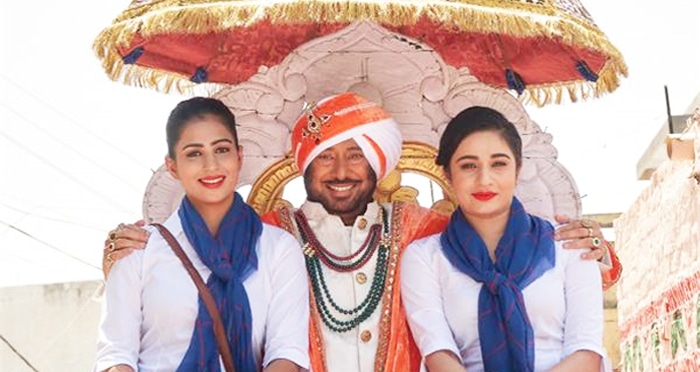 Not only is this but comedy king 'Jaswinder Bhalla' also going to play the character of Karamraaj for the first time in Punjabi movie industry. "Mar Gaye Oye Loko" movie trailer shows that senior actor of Punjabi cinema Malkeet Rauni will be seen in the form of a Sadhu in Yamlok, thus he is speaking Hindi in a very funny way that you will surely love. Binnu Dhillon is looking like a gangster whose life is in danger but B N Sharma as a doctor is treating him well. Thus, it will be a great comedy and drama movie.
Official trailer of Mar Gaye Oye Loko Movie
The story of Mar Gaye Oye Loko is quite suspensive, that we can't judge it from its trailer but still, the crew of this movie is very much talented and flexible. Simerjit Singh a very sincere name of Punjabi movies has given the direction to this movie. The writer and the producer of this movie are Gippy Grewal Himself. For the first time, this all-rounder artist has done the screenplay of this movie as well. Now let's wait for the August 31st when this movie will be in theatres nearby you.
Leave a Comment