Honsla Rakh Box Office Collection: It's Record Smashing!
By Punjabi Pollywood Team | November 11, 2021
Diljit Dosanjh, Sonam Bajwa, and Shehnaaz Gill starrer Honsla Rakh hits the silver screen and creates a record of a massive collection. The credits go to its ensemble cast and peculiar plot. Moreover, Honsla Rakh music also makes a substantial contribution to its success.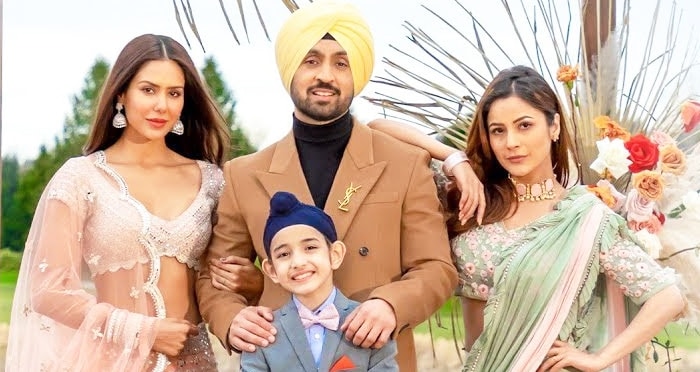 Released on Dussehra, 15th October 2021, Honsla Rakh box office collection breaks all records in terms of domestic as well as international collection. Also, it marks a huge victory with people still quite hesitant about stepping to the cinema halls.
Furthermore, it narrates a tale of a single father Yenkey Singh (Diljit) who finds a new love Jasmin (Sonam Bajwa) in his life. However, his situation takes a turn when his former partner Sweety (Shehnaaz Gill) returns back to him. Also, the role of Yenkey's son is essayed by Gippy Grewal's son Shinda Grewal.
Also, the rom-com marks Shehnaaz's foremost project post her rumored boyfriend's death Sidharth Shukla. This is also one of the reasons why viewers came into large numbers to display their support towards Ms. Gill.
As per the movie's makers, the film minted (till 7th November) a momentous 13.77 Cr. in Canada only, followed by the USA with 4.57 Cr., the UK and Ireland with 4.11 Cr. and finally, Australia with 4.52 Cr. So, that's quite an impact-worthy performance!
Kindly note the mentioned box office figures are made after online and offline research data only. Hence, the article cannot entail to any legal purpose.
Honsla Rakh Box Office (Till 7 Nov 2021)
USA – 4.57Cr
Canada – 13.77Cr
UK & Ireland – 4.11Cr
Australia – 4.52Cr
Honsla Rakh Box Office (5th Weekend)
USA – 4.65Cr
Canada – 14.97Cr
UK & Ireland – 4.32Cr
Australia – 4.79Cr
Honsla Rakh Box Office (6th Weekend)
Canada – 15.45Cr
UK & Ireland – 4.58Cr
Australia – 4.87Cr
New Zealand – 43.27 Lakh
Leave a Comment