Love story of Gurjit Singh and Jaspinder Cheema in their own words
By Harpreet Singh | July 26, 2016
Gujit Singh and Jaspinder Cheema have recently changed their real life from reel life. It all started from the sets of movie Gelo. Now they are living and enjoying their married life happily. This write up will take you to the various untouched moments of their lives in their words for the very first time:
First Meeting
Gurjit– We met for the first time on the sets of movie Gelo. Jaspinder Cheema was standing near to a Vanity Van and was listening to the English songs; I was feeling little bit nervous then, having thoughts that she is an actress with bigger name and fame. After that when we met for the second time, I found herself totally like me. I liked her nature so much this made our second meeting catchy as well. Love vibrations between got initiated from this.
Who purposed First
Jaspinder – We were celebrating a birthday of one of our teammate on the sets, I and Gurjit were sitting close to each other. Gurjit started sharing his feelings with me, which made my reaction how could one feel like that in 5-6 days only. Then Gurjit smiled and said," Jaspinder, you are made for me. Don't like me….Just Love Me."
I Hate You Gurjit
Gurjit – Because of my shooting schedule, I often got stacked out of home; which often results in cancelation of our planning of going out and spending time with each other lonely. Jaspinder often got irritated because of all this. I also not bother about my clothes. Jaspinder hates all of my bad habits very much. We often had bickering because of these issues on sets as well.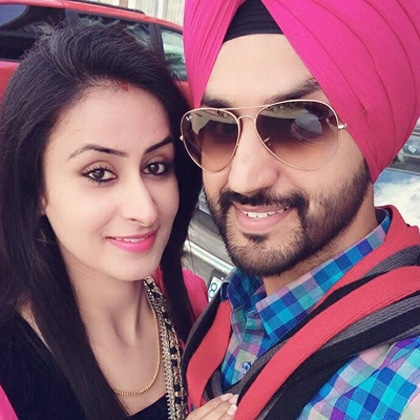 One Romantic Moment
Jaspinder – Here, I want to share with you that Gurjit is very much romantic person by nature. He surprised me in a filmy way on my birthday. A carpet of roses was designed and we had a shower of roses as well. That moment is really very much precious to me and closes one to my heart.
After Marriage
Gurjit – Frankly saying we are busy with each other after our marriage. I am very much surprised after our marriage that Jaspinder is very much good at home deals. She is world's best cook and a lot of caring that it's like a dream coming true for me. We share our everything from routine with each other. Even we have talks regarding our every show or project.
Jaspinder – I belongs to a joint family and after marriage I got same love and environment. Gurjit proposes about to shift in a city but am attached to the villages from depth of my heart. I am happy that I got a husband like Gurjit who gives so much of importance to me. O Lord! Keep us like this always.
Leave a Comment