Galwakdi Movie Review: A Quirky Love Story Between Two Contrasting Personalities
By Sonia Khanna | April 10, 2022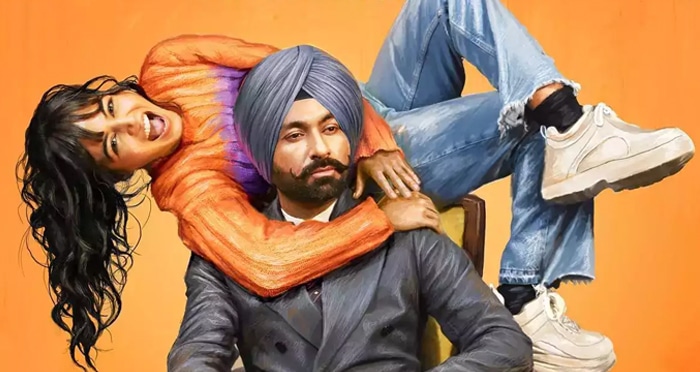 Galwakdi Movie Review
Punjabi movie Galwakdi hit the silver screens today. Featuring Tarsem Jassar, Wamiqa Gabbi, B.N Sharma, and Noreen Khan, the not-so-ordinary love story is directed by Sharant Art. Furthermore, it is co-presented by Vehli Janta Films and Omjee Star Studios. Next, if you're thinking to give it a watch, here's a quick Galwakdi movie review before you make that decision. Read on!
Story Scan
The story revolves around Jagteshwar (Tarsem Jassar) who serves as a librarian but has an OCPD (obsessive-compulsive personality disorder). He is ultra-cautious about tidiness and wants everything in place. Furthermore, he lives with his aunt, uncle, and cousin in the UK. Everything goes as per the order in his life unless he encounters Amber (Wamiqa Gabbi) who moves into his home as a paying guest. Interestingly, she's completely opposite to what Jagteshwar is. She is a carefree, happy-go girl, messy but with a good heart. Both of them often pick fights and get irked with each other's attitudes. However, soon a turn of events where Jagteshwar's college crush comes back into his life, and later, Amber meets an accident. Watch the movie to check how it alters the former's equation with Amber.
Performance Pitch
Looking at Wamiqa Gabbi's character Amber, the actress has surely nailed it. Her cute and cheerful role will melt every heart. She brings a smile to her face and makes everyone aspire to have a partner like her in life. On the other hand, Tarsem's character Jagteshwar is not-so pleasing and well that comprehends the demand of the role. His character's image is strict, rigid, and stern personality. However, the second half of his role post-interval may surprise you with a twist in his overall persona. Next, Raghuveer Boli made a remarkable contribution as Jagteshwar's cousin. His character is full of fun and endearing moments. Besides them, Rupinder Rupi, BN Sharma, Seema Kaushal, Prakash Gadhu, and Sukhi Chahal played a decent supporting cast. While characters played by Harby Sangha and Honey Mattu can be improved to some extent.
Music & Presentation
Singer Nimrat Khaira, Kulbir Jhinjer, and Tarsem Jassar sang some real soulful songs in the movie. Most of the songs go along with the story and some songs do not match the plot but the good music helps them to sustain and survive. Arabic Akh is the foremost song and that sets the mood (there and then). Overall, music is heart-pleasing. Next, talking about the direction, Sharan Art is known for Rabb Da Radio 2. However, his legacy fails to meet the expectation in terms of locations and shooting angles. Furthermore, the story by Randeep Chahal turns out to be a little dragged and highly predictable while heading towards the end. Also, the title Galwakdi does not make any justice to the movie's story.
Vital Verdict
The story displays a quirky love story of two contrasting personalities. Though it does not have a perfectly themed plot, the movie has got strong characterization. If your life is dull as Jagteshwar and you're now looking to get Amber in your life, watch the Punjabi movie Galwakdi. It's a shout-out to all Tarsem's and Wamiqa's fans to watch the film and see their favorite actors in some sort of new and different avatar. Enjoy!
Leave a Comment