Gaddi Jaandi Ae Chalaangaan Maardi Review: A Jinxed Car Sparks a Comedy of Family Mishaps
By Harpreet Singh | October 2, 2023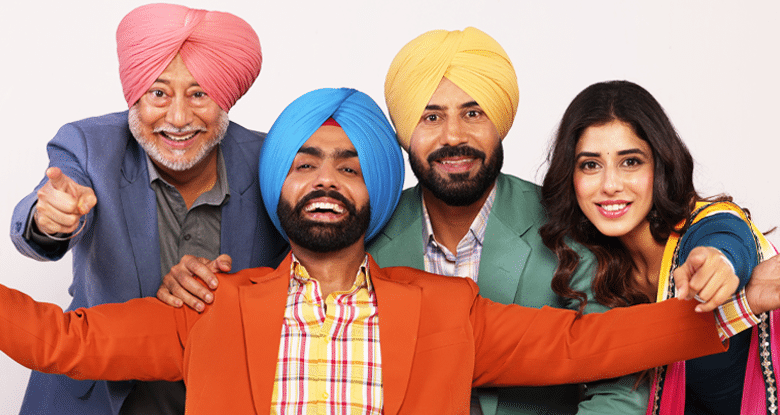 Gaddi Jaandi Ae Chalaangaan Maardi movie finally hit the theatres on 29 September 2023. Furthermore, it features Ammy Virk, Jaswinder Bhalla, Binnu Dhillon, Jasmin Bajwa, and BN Sharma in lead roles. Under the direction of Smeep Kang, the film turns out to be a family drama that revolves around a wedding. Read on to know how much it succeeds in impressing moviegoers.
Story Scan
Happy (Ammy) comes from a money-minded middle-class family, where his father (Jaswinder Bhalla) views his sons as investments and insists on dowry as a pre-requirement for their marriages. At his workplace, Happy falls in love with his colleague, Pooja (Jasmin Bajwa), and their relationship eventually leads to the prospect of marriage. However, Happy's family imposes a condition—they demand a dowry, including a car, as part of the marriage arrangement.
In a bid to secure the dowry without making it obvious, Happy devises a clever plan to obtain it from Pooja's family. Unfortunately, just before the wedding, the car included in the dowry is accidentally damaged, throwing the entire affair into turmoil. Next, the story unfolds as Happy navigates the chaos and strives to mend the situation. Watch out to know how Happy resolves the chaos and ensures a memorable wedding.
Performance Pitch
The oh-so-hilarious trio of Binnu Dhillon (Happy's elder brother), Jaswinder Bhalla, and Ammy Virk delivers an abundance of humor that's impossible to resist. Jaswinder Bhalla's impeccable energy and Binnu Dhillon's side-splitting punchlines contribute to the movie's exceptional comedic appeal. Next, BN Sharma as always makes a standout performance. And let's not overlook Honey Mattu's humorous performance, which is the icing on the cake.
In addition, the enchanting chemistry between Ammy Virk and Jasmin Bajwa leaves a lasting impression on the viewers' minds. Lastly, altogether it transforms this film into a complete family entertainer.
Dialogues & Direction
Directed by Smeep Kang and written by Naresh Kathooria, the movie marks the collaboration of this acclaimed duo yet again. Furthermore, they have had success ever since they worked on the biggest Punjabi franchise, 'Carry On Jatta.' The flawless direction and an exciting script make it an entertaining masterpiece. The dialogues, skillfully crafted by Naresh Kathooria, demonstrate his expertise in infusing just the right dose of humor into any film. With witty punchlines and uproarious delivery, be prepared for a hearty dose of laughter. However, an improved screenplay could have won the film a perfect score.
Music
This family drama boasts an extensive soundtrack of six songs that have already captivated the audience. The infectious beats and music have held the audience spellbound, contributing their unique essence to the storyline. From the title track, Ni Kude, Kya Hi Baatan, and Daru De Drum to others, songs are both entertaining and heart-pleasing.
Vital Verdict
Well, Gaddi Jaandi Ae Chalaangaan Maardi movie review tags it as a wholesome family entertainment experience. We surely recommend watching it with your loved ones. Furthermore, it features excellent direction, impactful performances, laughter-filled punchlines, enduring romance, and side-splitting comedy. Interestingly, it is wrapped with a significant message at the end. So, what are waiting for? Book your tickets and hop on a hilarious ride.
Public Review
Leave a Comment