Desi Munde – The Distant Dreams of Every Youth
By Gurjit Singh | September 13, 2016
One or the other person of every home in Punjab dreams to go abroad. Just because they are attracted towards the dollars of foreign. What adds to the urge of Punjabis to go abroad, is the lifestyle of the person who returns. One can see these returnees wearing gold and other expensive items. This act as a catalyst for others to chase the foreign dreams. Even today an average Punjabi youth would go to any lengths, bear any cost and adopt any means- legal or illegal to cross the seven seas and start a new life in a new country. And faster the law catches up, the more ingenious they becomes. Despite of these fantasies, Punjabis are unaware of the issues faced by the NRI's over another country. Though many movies have been released to highlight the condition of Punjabis in other countries. But yet this trend of going abroad is attracting the youth of Punjab. Rather than the dialogue of Harbhajan Mann "maa main Canada nai jana" in 'jee aya nu' movie, every son in Punjab is saying " maa main Canada hi jana".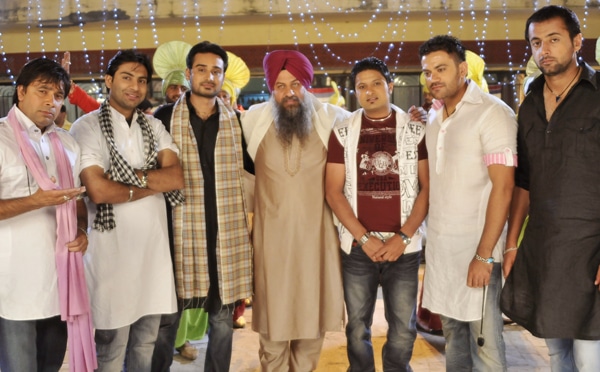 Desi singer and actor 'Balkar Sidhu' is all set to sizzle the silver screen with Isha Rikhi in his upcoming film Desi Munde. The movie has been directed by Inderjit Bansal and produced by P.S Purewal along with Gurjeet Kaur Heer, under the banner of VIP films USA and Purewal films International and it has been scripted by Balwinder Heer. The movie's concept is to highlight the crucial issue of today's youth, who always dreams of leaving hos mother land with the urge of earning money. The actor (Balkar Sidhu) will be portraying the character of Punjabi youth, who has been stubborn to go to abroad. And after that what issues he come across in foreign and how he overcome his problems there.
Now we can't reveal more than this, because we want you to watch the movies in theatres. After all your very own 'Balkar Sidhu ' needs your blessings and love for his first movie. So people be ready to watch entertaining yet informative movie 'Desi Munde', that is going to hit your nearest theatres on 30th September.
Leave a Comment