Blackia Movie Review: An Action Pack Film with a Great Message to Learn
By Punjabi Pollywood Team | May 4, 2019
The movie Blackia directed by Sukhminder Dhanjal with a macho personality actor Dev Kharoud with actress Ihana Dhillon is a fun to watch family movie. Dev Kharoud's action and dialogues are major attraction in the movie . Dev Kharoud through movie Blackia gives a great message that wrong paths lead to wrong conclusions. Movie Blackia is all in 1970's background setup and focuses on major issue gold digging from Pakistan to India.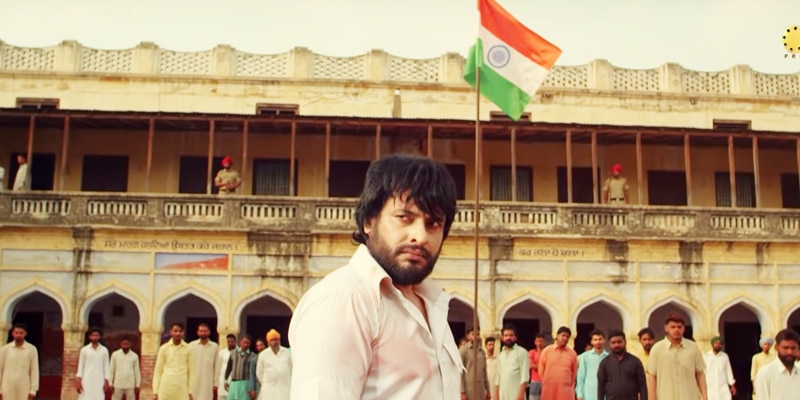 Story
Gamma the main lead Dev Kharoud in the movie Blackia is born in a family of gold diggers and from the childhood shows inclination towards his father's black business. Gamma is directed to wrong path by his father inspite of his mother's denial. The twist begins when Gamma falls in love with Ihana Dhillon who belongs to a baniya family and her father being the top of the gold diggers. A clean character boy Gamma then enters the world of gold diggers . From here begins a action movie after a short love story. Gamma at the end is in a situation of shoot at site because of his deeds but too late to realize .Will Gamma survive? If not who killed him?
Acting
Dev Kharoud is a action hero who has always been in a action fight movie and entertained the audience but first time seen in a periodic love story drama. Dev Kharoud's robust acting skills are loved by audience but this time Dev Kharoud will be seen shaking his leg with Ihana Dhillon on a song. The first time seen chemistry of Ihana and Dev Kharoud is winning hearts of audience added with Ihana's brilliant and stupendous looks. Her cinematic expressions are playing perfect tunes with personality of Dev Kharoud. Arsh Bandal, Ihana Dhillon, Ashish Duggal and Rana Jung Bahadur also gave their best in the movie and added to the efforts to bring forward a major issue of gold digging.
Direction
Direction Sukhminder Dhanjal has done very well in the cinematic presentations and here in movie Blackia has focused exactly on right timings and background of 1970's with appropriate dressing styles. The background set along with story line to have a mix of love story and action is brilliant. The youngsters are given a great message of doing good deeds through a enjoyable and action filled way.
Music
Blackia has created a memorizing effect on minds of audience. There was a rush in theatres today with punjabi folk dance bhangra by audience during the movie. A cheerful and energetic environment was to be seen in the cinemas today. The song Koka sung by Karamjit Anmol has won hearts even before the release of the movie. The song Blackia Meets Singaa made a thunder in the theatres and supporting the dashing personality of Dev Kharoud. The music of movie songs is given by Desi Crew filling movie with a spirit full of energy.
Leave a Comment