Binnu Dhillon and Kavita Kaushik to Again Make Roll you on Floor with 'Vadhaiyaan Ji Vadhaiyaan'
By Gurjit Kaur | July 7, 2018
New Punjabi movie 'Vadhaiyaan Ji Vadhaiyaan' starring Binnu Dhillon and Kavita Kaushik is all set to make you roll on floors by giving crunches in your stomach. Last year only Kavita Kaushik debut her career in Punjabi industry with the movie Vekh Baraatan Challiyaan. In her debut movie as well, she was paired with Binnu Dhillon and audience showered great love upon them. Vekh Baraatan Challiyan becomes superhit Punjabi movie and the jodi of Binnu Dhillon and Kavita Kaushik nailed it with their performance.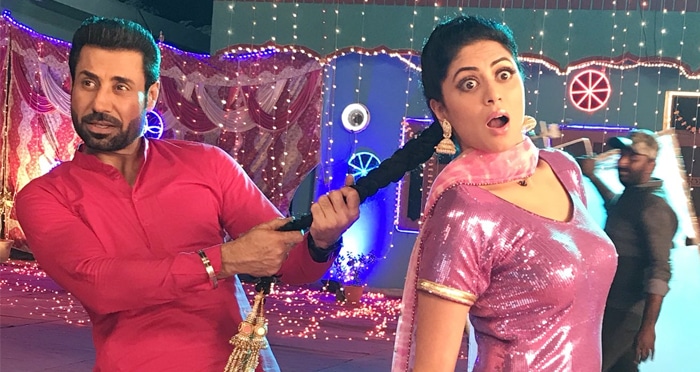 Now once again the jodi of Binnu and Kavita has been repeated in the all-new Punjabi movie titled as Vadhaiyaan Ji Vadhaiyaan. The trailer of the movie shows greats acting and punches from the duo and the team has also been joined by Gurpreet Ghuggi, Karamjit Anmol and Jaswinder Bhalla. The story of Vadhaiyaan Ji Vadhaiyaan revolves around the marriage of Binnu Dhillon and Kavita Kaushik but the twist comes when a few days before to marriage Binnu complains of his eye problem. Now how Binnu and his friends will handle the situation and make it a successful marriage? All the confusion will be solved in the movie theatres on 13th July 2018 with the release of Vadhaiyaan Ji Vadhaiyaan movie.
Vadhayiyaan Ji Vadhayiyaan Movie Trailer
Vadhaiyaan Ji Vahaiyaan official trailer has only shown the glimpse of the same and it rolled us over the floor with the comedy punches. Although the makers of Carry on Jatta, Lavaan Phere and recent release Carry on Jatta 2 has brought to you another full-on comedy Punjabi movie Vadhaiyaan Ji Vadhaiyaan and it's amazing. So book your advance tickets and get ready to laugh like hell with Binnu Dhillon and Kavita Kaushik's latest Punjabi movie Vadhiayaan Ji Vadhaiyaan.
Leave a Comment