Band Vaaje Movie Review : Romance Across The Borders
By Punjabi Pollywood Team | March 15, 2019
New Punjabi movie Band Vaaje starring Binnu Dhillon and Mandy Takhar is now in theatres and has come up with amazing reviews. Along with these two, the movie is packed with a very entertaining brigade as Gurpreet Ghuggi, Nirmal Rishi, Jaswinder Bhalla. It's a production by Shah An Shah Pictures and A & A Advisors In Association With Rising Star Entertainment INC. The movie is totally about a different concept which is behind this success. Now moving towards the review of this movie: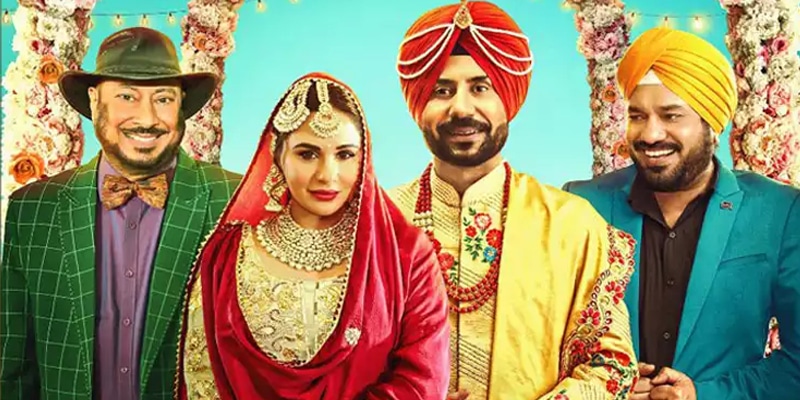 Story:
The story of the movie revolves around Inder (Binnu Dhillon) who stays in London with his elder brother, sister in law and niece. Inder's grandmother wanted him to marry an Indian girl but he falls in love with the girl from Pakistan, Bilkis (Mandy Takhar) whom he met while searching for a girl with his friend Kashmir (Gurpreet Ghuggi) who runs a Marriage Bureau. He slowly comes to know that although she stays with Indian family (Jaswinder Bhalla & Mannat Kaur) but she actually is a Pakistani. Now, we will see how Inder will convince his grandmother to marry Bilkis? Will she approve of their love?
Acting:
The actors in the movie have really lived up to the characters given to them. From comedy to Drama, Romance to Emotions- this movie has got all covered and has really enacted well too. The chemistry between Binnu Dhillon and Mandy Takhar is superb. The specialty of this movie is that all the characters have much time and dialogues to showcase their talent including Sameep Kang himself.
Direction:
The movie Band Vaaje has been directed by a brand name of Punjabi industry Smeep Kang, who has done it wonderful way and again proven his quality in direction. The audience enjoys laughter in the movie and the storyline and screenplay are also on the right track that makes it a must watch a movie.
Music:
The music and the songs of the movie have also gained a lot of popularity and mesmerizing reviews from the audience. The movie has songs for all the moods- romantic, emotional and what not! The lyrics of the songs are penned down by legendary Babu Singh Maan, Harmanjeet, Makhan Brar, Manna Mand and more. Singers associated in the team of Band Vaaje are Golden Star Malkit Singh, Sunidhi Chauhan, Gurshabd Singh, Gurpreet Maan, Gulrez Akhtar, Kulwinder Kally. Music is by Jatinder Shah, so we think only the names are sufficient for letting you know about the beauty of movie's music.
Why should you watch it?
This movie is not only a comedy movie but also has a romantic touch to the story. It shows how love conquers over the regional discrimination with stomach aching situational comedy that will be a stress buster to you!
Leave a Comment