Poster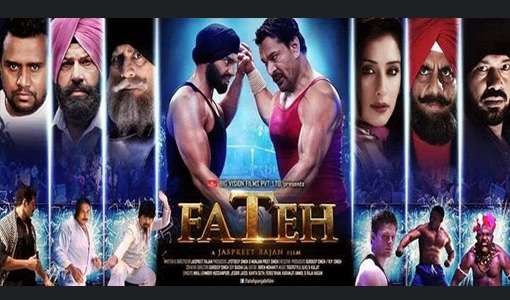 What's the movie about
FATEH is the story of a young lad who grows up witnessing constant disputes of his parents. As a repercussion of this, FATEH builds walls of his own understanding and becomes an introvert. He destines himself to his academics which bring him laurels later in life. College life brings the much needed change in him when he befriends TAREEF and BEZTI, two students who have not graduated in ages just because they fail and continue to be freshmen in the college. Their constant jokes and joviality are going to leave the audience in splits.
His life turns into an unconventional fairytale when love gently creeps into his life as he meets his childhood heartthrob SEHAJ.
A young violinist who dazzles FATEH with her incandescent beauty. The pious and sweet romance continues to soar with its open wings until SANGRAM, a rebellious martial art prodigy who is an admirer of Sehaj attempts to keep the lovers apart. He turns to illegitimate means to bully Fateh and delivers severe blows on him.
During an attack, PARTAP comes to FATEH'S aid, revealing himself as a martial art master.
PARTAP trains FATEH in the fine art of the Sikh martial art GATKA while TAREEF helps him to rebuke, regroup, and more importantly refuel his spirit back up. FATEH's journey of his absolute transformation from a boy who is trapped in a cage of his own making to a fearless individual is what sets the film apart from all the rest.
Apart from the rigorous training that PARTAP gives to FATEH, he also emphasizes on instilling good human values in him. He acquaints him with the fact that what counts in a combat is not the victory but the magnificence of the struggle. The film focuses on discovering that unfathomable elixir of indomitable spirit that turns a person who might have resorted to illicit ways of fighting back into an international athletic superstar. The movie ends with an open martial art competition among different arts. The film has invited combat professionals from all over the world showcasing Kick Boxing, Scottish Martial Art, African traditional martial art, Pakistani wrestlers, Karate, Chinese Kung Fu, Taekwondo, Free Style Martial Art and Gatka to name a few.
Movie Trailer

Cast & Crew

| | |
| --- | --- |
| Releasing Date | 7 MARCH 2014 |
| Genre | Action, Drama, Comedy, Sports |
| Producer | Jyotdeep Singh , Munjan Preet Singh |
| Director | Jaspreet Rajan |
Comments
comments