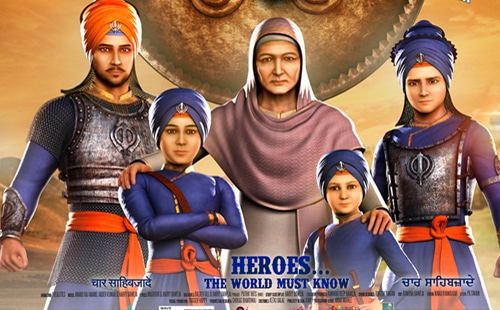 After a long time someone take a responsibility to make good start with movie . Earlier "Nanak Naam Jahaz Hai" directed by Ram Maheshwory in 1969 which won National Film Award. Likewise, Chaar Sahibzaade historical journey in Sikh History.
Salute to the man who take step forword and made this movie director Harry Baweja, Creative producer Harman Baweja and Amrinder Gill who produced beautiful song which is actually is already Shabad "Mittar Pyaare Nu".
In chandigarh he shared experience of his journey along with all team. He started project in 2009 (almost 5 Years). Taking a leaf from Sikh history, a story of beautiful sauls, The four sons of 10th Guru Gobind Singh Ji because soliders, Freedom fighters who made every single thing  possible Chaar Sahibzaade. Director of the animated movie research through out the period and consulte & with many historian for the Movie and then took step for making out in the croud.
The movie will be released on 6th Nov 2014 through out the world in different languages including Punjabi, Hindi, English and other Foreign Languages. Punjabi Pollywood request everyone to watch this movie of Four Brave saul along with family. So, that our history remain alive for the centuries.
Trailer
Comments
comments